Naseeruddin Shah making Lahore feel pre-1947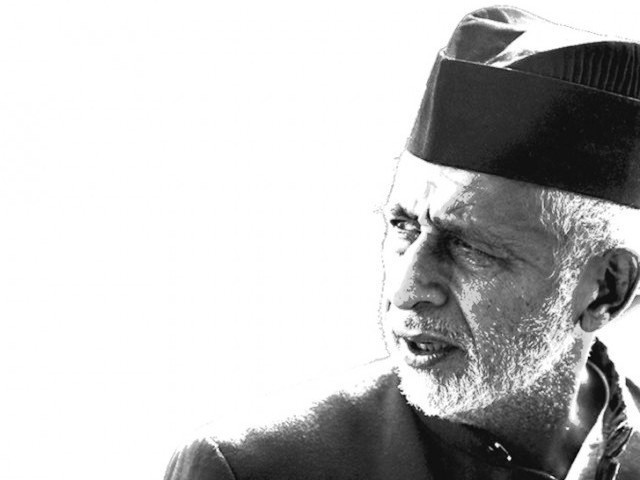 Naseeruddin Shah received a standing ovation from the Lahore capacity crowd at The Alhamra Art Centre, on Saturday. This was before he started performing. Those pouring into Alhamra's Hall No 2 since 5:00 to watch he 'Naseeruddin Shah plays'  knew little more than that they were dramatistions of the great Urdu writer Ismat Chughtai's short stories and that Naseeruddin Shah was performing in them. The latter was enough for most.
A documentary on Faiz Ghar began the evening exactly at 6:00, as stated on the invitation card, after which the Bollywood star strode on to the Alhamra stage to great applause, cutting a charismatic figure. White-haired and elegant, Shah's crisp Urdu diction (peppered with only an occasional smattering of Hindi) distinguished itself immediately in a country officially the flag-bearer of Urdu in the sub-continent but with an urban population increasingly indifferent to the language. Heeba Shah, the first of the performers walked on to the stage, coffee mug in hand to begin narrating 'Chhui Mui', the tale of an upper middle class shareefzaadi 's protected upbringing that renders her nature so delicate she is incapable of taking her pregnancies to full term and providing her in-laws with a much-desired heir. Bhabhijaan, as she is called by the young but precocious narrator, is juxtaposed with a wretched harlot who gives birth to her child in a train compartment with an ease and unabashed pride that horrifies the shareef khaandaan looking on. Bhabhijaan is so affected by the spectacle that she miscarries once again. The performance and the writing blended so seamlessly it was difficult to say you hadn't just witnessed a play with an ensemble cast instead of a short story recited by a single person. This sense of the stage peopled with a variety of
characters and not just a single narrator only grew with subsequent performances. Ratna Pathak's narration of 'Gori Bi and Kaley Mian' turned out to be a virtuoso performance, restrained and mellow. Pathak allowed Chughtai's words to take centre stage, letting them weave a web of their own without permitting imposed theatrical compulsions to interfere with the narrative flow. The injured pride of a dark man married to a fair woman finds release in a refusal to consummate the marriage unless the bride lifts her marital veil herself, an unheard-of travesty in the strictly mannered mughal setting of the story. Chughtai's sharp reveals the psychological wounds society
inflicts not just upon women but also men who do not fit into prescribed norms of beauty, and the fallout of such societal attitudes on individual lives.
In the last and longest performance of the evening, Nasseruddin Shah starred as a lonely, middle-aged nawaab fighting hopelessly against the charms of Laajo, a generous and promiscuous young woman who comes to work at his house. Shah took the crowd along on a raucous jaunt of irreverence and lasciviousness with obvious personal delight in the portrayal of the nawab's sexual yearnings, kept from degenerating into bawdiness by Chughtai's refined, literary Urdu. Marriage sounds the death knell to romance in this story; the nawaab and Laajo's state of romantic Eden destroyed by the shackles of an institution for which Laajo is singularly unsuited. Once the unhappy interlude of marriage is gotten over with, however, and the nawaab divorces Laajo, they return to their happy state of coupledom without many qualms.
The largely upper-middle class, English-educated audience that shows up for such events reveled for two evenings in the dexterity of the Urdu language. I felt a pride I rarely feel these days about anything indigenous. For two days The Faiz Foundation made Lahore feel pre-9/11, pre-Sri Lankan cricket team attack, pre-Rafi Peer Theatre Festival closure, and within the confines of the theatre, perhaps even pre-1947.
Read more by Sabahat here