On Shane Warne's outburst against Aleem Dar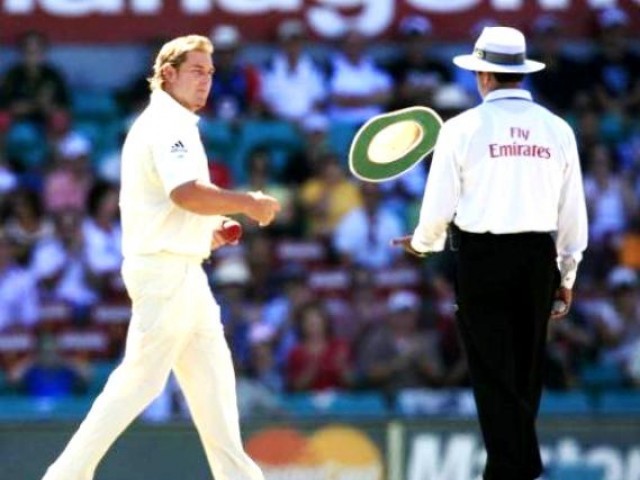 For any Test match lover, the last week has been heaven's prototype model. Tests pitting Australia against South Africa, India against England, Sri Lanka against New Zealand and Bangladesh against the West Indies; for the third time in cricket history, four Test matches were played on a single day (Sunday).
Shane Warne was in India, commentating in Mumbai for Star Sports. The on-field umpires Tony Hill and Aleem Dar had a bad game. They made some bad decisions which were spread out over the four days, from Friday to Monday.
Here's what Shane Warne tweeted, after the game culminated in England's victory:
It is interesting to note that of the four games, the Decision Review System (DRS) facility was available only for the Test match being played in Australia. DRS permits each team to make two unsuccessful referrals to the 3rd umpire for every innings. Cricket boards of Bangladesh and Sri Lanka usually opt out citing cost overruns.
Board of Control for Cricket in India (BCCI) however, opts out on arrogance. Yes they do present a reason for their stance against the DRS; but frankly it makes absolutely no sense.
Aleem Dar, before the awards of 2012 in which he was highly tipped to win by the way, has won three consecutive Umpire of the Year awards in 2009, 2010 and 2011. If Shane Warne's comments were deemed to be true, for a start it would say more about the lack of competence of the rest of the umpires in ICC's Elite Panel, rather than Aleem Dar.
One must question what prompted Shane Warne to make such a controversial statement, without solid backing. People have suggested it is a brilliant publicity stunt, though given Warne's already famous persona, I find it a little hard to believe.
It is also a known fact that Shane Warne and Aleem Dar have had many tiffs in the past in Test matches they've been involved in. Aleem Dar's on-field personality has always been strong and firm – perhaps Shane Warne the superstar didn't take kindly to that?
Don't forget that Warne is already notorious for post-retirement outbursts against colleagues and officials he did not like; case in point would be Adam  Gilchrist and Australian coach John Buchanan.
When discussing a modern day umpire's performance, it should be taken into account that the human brain remains one of the greatest examples of adaptation, and displays both its advantages and disadvantages. Before the technology of replays was introduced, the public never knew whether a decision was good or bad. After the advent of replays, we were able to judge better a decision given by an on-field umpire. For run-outs, after the introduction of third umpires, better decisions were made on close run-out calls.
Did it automatically grade earlier umpires who had made close run-out errors bad?
Similarly, with the introduction of the DRS, a lot of umpires have become bolder in giving decisions of doubt. An umpire's mind has become more relaxed, with the knowledge that the batsman itself is able to prevent a howler by referring a decision. My point being, that most umpires' minds have adapted to the comfort of the DRS.
It is the ICC's prerogative to ensure members comply with the DRS requirements to keep the standard of umpiring consistent. Even the public viewing it has become comfortable with it. Hence, in the absence of the DRS, the howlers made by umpires are likely to be accentuated and publicised more, than a howler that is prevented through the DRS.
The best examples I can give are the two bad decisions given by Billy Bowden at the final day of the Australia vs South Africa Test on Tuesday. In the first session, Faf Du Plessis, the South African debutant was given an out in the 66th and 68th over of the innings.
In one of the decisions, an LBW had been given when the ball hadn't even hit the pad!
Du Plessis used the DRS to reverse both decisions. Without the DRS, Faf Du Plessis wouldn't have written his name into cricketing folklore by playing a match-saving innings of a lifetime! And all hell would have broken loose on Billy Bowden.
I think we would all agree that Aleem Dar has been below par in the Test series being played in India, especially given the high standards he has set for himself. But to call him a poor decision maker and a poor umpire on the basis of a single series is grossly unfair, and what is eerily worrisome is that Warne chose a game involving India to make this statement.
Would the statement have been the same had Warne not been in India for the game?
After all, he's commentated before in games involving Aleem Dar. I can't imagine Warne being so vocal on umpires while commentating for Sky Sports in England.
Perhaps he recognised and utilised the opportunity of a public more receptive to his thoughts against a Pakistani, to vent a long borne frustration?
Read more by Hamza here or follow him on Twitter @GumbyAKhan