Kasab's hanging: Catharsis or politics?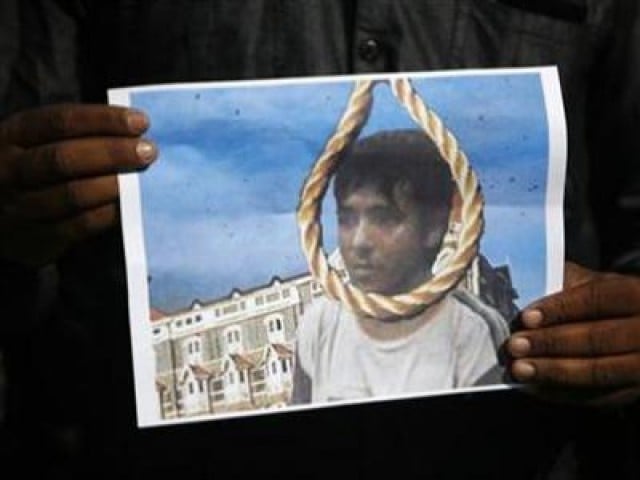 I was standing in Delhi metro train when suddenly my co-passenger almost shouted in my ears,
Honestly, I didn't know how to react; neither did the people around me. I gave a faint smile and said,
And then, everyone was back to what they do on every mundane Wednesday ─ playing Temple Run on their smartphones, reading novels, and listening to latest Bollywood tunes.
I remember November 26, 2008, vividly. The images of India's financial capital under siege of a handful of terrorists was both horrifying as well as infuriating. For almost 72 hours, Mumbai was maimed by a group of zealots who foolishly believed that their murderous rampage will somehow please God.
The images of the heritage wing of Taj on fire and the intermittent sound of firing and explosions will be hard to forget. By the time this siege ended, 164 innocent people lay dead and over 300 injured.
Kasab deserved every bit of the sentence that was meted out to him. Agreed, he was a 21-year-old poor lad who fell prey to that school of terror which has claimed thousands of lives in the subcontinent and beyond. But age and circumstances can never be an excuse for killing unarmed innocent citizens. Not every poor guy becomes a Kasab; not every Kasab is a poor guy.
Kasab's execution has reignited the global death-penalty debate. Those against it argue that there's no place for capital punishment in a civilised society. But then again, there's no place for such crimes in a civilised society either. I am not an advocate of the 'electric chair' treatment. Most of the educated Indians whom I have come across feel the same way. Indian law prescribes capital punishment in the 'rarest of the rare' cases. That is why only 36 convicts have walked down the gallows in independent India so far.
When it came to Kasab, India didn't have much of a choice. We had already burnt our hands during the Kandahar hijack, where we had to release Maulana Masood Azhar in return of 192 passengers. With Kasab, the government couldn't afford a repeat of that embarrassment. And let's face it, a Pakistani terrorist, whose heinous crimes were recorded on CCTV cameras, is not something a beleaguered government can let go in these troubled times.
With upcoming assembly elections in two states, accusations of being soft on terror and growing disdain among the middle class due to graft, Kasab had to die. Only the timing and handling mattered. I salute the Indian judiciary for giving Kasab a fair trial and the administration for keeping the entire affair low key. Contrary to what a particular flop Bollywood director would like you to believe, majority of Indians did not dream of watching a public execution.
That Kasab's crime fits the 'rarest of the rare' bill is beyond doubt. But is Kasab the only one who deserved to die? Certainly not.
Afzal Guru, the Kashmiri who was involved in the 2001 attack on the Indian parliament still lives. So do the killers of former prime minister Rajiv Gandhi and former Punjab chief minister Beant Singh. If the partners of Afzal Guru had succeeded, a large chunk of India's topmost leadership would have been wiped out.
Then why did only Kasab get the noose?
The answer is, Kasab didn't belong to any political bloc. He was not an Indian. No religious or linguistic group sympathised with him and thus, hanging him didn't involve any repercussions. Afzal Guru's hanging would have triggered protests in the valley.
Every Kashmiri leader of importance had warned that hanging Afzal would deteriorate the situation in Kashmir. The sympathisers of LTTE members who assassinated Rajiv Gandhi created such a furore in Tamil Nadu that the state assembly passed a bill demanding clemency for them.
Balwant Singh Rajaona, the prime accused in Beant Singh assassination, couldn't be hanged due to pressure from hardliners from Punjab. But Pakistan's Ajmal Kasab was the orphaned devil on Indian soil. Contrary to what his masters would have made him believe, Indian Muslims did not sympathise with him.
Out of the six terrorists on death row, Kasab should have been the last one to go if first come first serve was the basis. If there's any lesson for the likes of Lashkar-e-Taiba from Kasab's hanging, it's that the next time they plan an assault on India; their "Kasab" should be an Indian and not a Pakistani. That way, there's every chance that he might not get hanged. When political compulsions decide when and how justice is meted, the value of justice is negated.
K Unnikrishnan, father of the slain NSG commando Sandeep Unnikrishnan, said that a lot needs to be done to bring the real perpetrators of Mumbai carnage to justice.
He is right.
Kasab was after all a puppet in the hands of his handlers. In most such cases, we catch the foot soldiers and think that the needful has been done. But we all know that killing a man isn't the solution. Killing the idea is what matters. That nefarious idea is alive and kicking on both sides of the border.
26/11 wasn't the last terror attack on the Indian soil. Kasab's hanging won't end terrorism. That's perhaps one reason why the people in the metro train were anything but ecstatic on hearing this news. The real demon is the religious intolerance and fanaticism that creates a monster out of a 21-year-old boy.
Until that monster is killed, there will be more hangings and more debates, but no permanent solution.
Follow Kunal on Twitter @kunal_anand1