Tanhaiyan Naye Silsilay: Something old, something new, something borrowed, something blue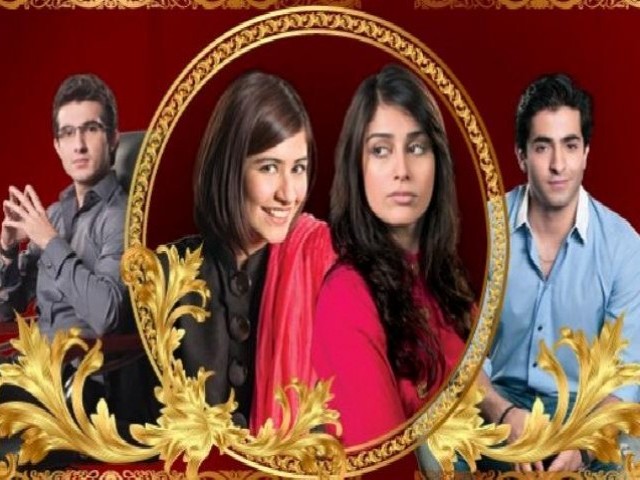 Most of us tend to glorify our childhood as if it passed in some golden haze and each event is wrapped in the cushioning wool of nostalgia to protect it from reality. Any challenge to that halcyon vision is dismissed because that pure, innocent joy we first experienced sets the standard to which we compare every future event.
Classic dramas such as Tanhaiyan are part of a collective memory shared by a community, not only in Pakistan, but across the globe. Everything from the drama to the mellowness of those days just seems to flash in front of one's eyes.
Thanks to technology, I, like many others, decided to watch the original version of this drama online. Needless to say, I was not disappointed. The world may change but human beings and their emotional reactions to things never do.
In Tanhaiyan, I saw all the familiar ingredients of grief, separation, laughter and love brought together. Above all was the triumph of love – not just between a man and a woman but between generations, love between sisters and friends.
Yes, the scenes were a little stretched but the acting skills of Shehnaz Shaikh, Marina Khan, Qazi Wajid, Badar Khalil and Behroze Sabzwari would make a connection with even the most jaded viewer. Of course the wonderful, witty and yet laugh-out-loud script by Haseena Moin, combined with the direction of Shahzad Khalil, make this drama one of a kind.
It is a product of its time and so should be understood in that context.
Only the very foolish or the very brave would attempt to touch this sacred cow of our combined psyche, but I can honestly say that with the few inevitable reservations, the team of this drama's sequel Tanhaiyan Nai Silsilay (TNS) has pulled it off.
The original story of Tanhaiyan was about the journey of two sisters after the sudden and tragic loss of their parents. This motive is repeated in TNS, where we are told that Zara (who had settled in America in the original drama) has died leaving behind her sister Saniya and her two daughters Zeenya and Serena.
We are asked to believe that despite no obvious disagreement, sisters who were once so close to each other have lost touch- to the point that even the news of Zara's death had not been passed on to the family in Pakistan by her husband, Zain.
What is even stranger is Zain's inability to explain the events leading to Zara's death. His daughters are understandably sad and confused; Zeenya in particular seems angry and hurt. The relationship between Saniya and Zara is beautifully reflected but not copied in the younger girls' characters, well played by real life sisters Alishba and Syra Yousuf.
The first episode was more than difficult to swallow with Saniya's character flouncing about the screen like an overgrown teenager. I can only suppose the writers wanted to reassure the audience that despite the passage of time, some things have not changed.
But of course they have.
The old Saniya would never have refused to contact her sister, and the old Saniya was a naive teenager, not a middle-aged woman. Anny khala, Farhan uncle and Zain have all changed with time; Farhan uncle has become bitter and withdrawn, Zain is a wounded man with secrets, and Anny khala seems worn out by her husband Farhan's depression.
Despite the slightly long scenes, which are probably deliberate to keep some continuity with the original drama, Marina Khan's direction has succeeded in making this drama more than just a sequel; in fact, it could easily stand on its own.
The first two or three episodes were a little hard to watch because just like all family reunions, (particularly one in which a death is announced) the episodes showed a time of reckoning and hard truths which we all hope to avoid.
Syed Mohammed Ahmed weaves all these characters and storylines into something quite beautiful. He has managed to keep the characters Haseena Moin created and given them a believable new life.
I find Haseena Moin's heroines to be fascinating, strong women who do not rely on men to resolve their problems. They are bubbly but never rude or foolish, always maintaining their limits yet working towards something better. Perhaps they were products of another era, but I cannot help seeing the contrast between them and other contemporary images of womanhood shown on our screens. Even Bibi, the loyal family servant has a mind of her own and is not afraid to speak up at regular intervals. Her conversations with the long dead Appa Begum are pure gold.
If all of this sounds like a layer cake of reflections from the past and unrealised hopes for the future, the entry of Qutbuddin -also-known-as- Qabacha, played with comic genius by Behroze Sabzwari, is the icing which suddenly makes everything sweeter.
I wonder if there has ever been a funnier robbery than the one played out in episode four. Qabacha and his newly-named son Kishmish's presence were all that was required. Suddenly, it is as if all those years of separation have vanished in the blink of an eye.
Will Qabacha finally have his dream of marrying Miss Saniya fulfilled? Or will Serena find her someone else?
Yes there have been some misunderstandings, some losses and even some mistakes, but nothing that cannot be repaired. It is safe to say that Tanhaiyan Naye Silsilay has managed to gracefully continue what Tanhaiyan, a gem of a drama, left behind.
Read more by Sadaf here or follow her on @Tomtomatoe