Aşk-ı Memnu: A must-watch for soap followers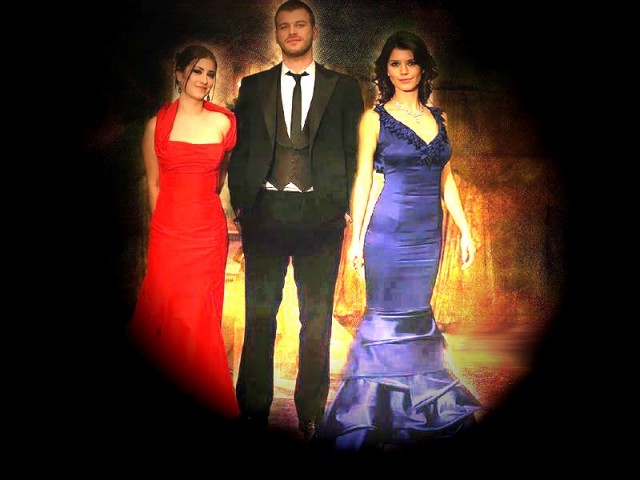 I started following "Aşk-ı Memnu" out of sheer boredom. I had always poked fun at my sister for watching it and never had I imagined that I would become an avid viewer of the show – even more so than my sister. 
"Aşk-ı Memnu" is a Turkish TV serial currently being aired in Urdu on Urdu1. It is often referred to as the next "Humsafar", possibly because of the appealing star cast. It lists among the classics and has apparently been translated into 39 languages worldwide!
Speaking of popularity, who can forget the time when TV shows featuring on Hum TV were the talk of town? Be it the charismatic actors, their amazing fashion sense or the melodious soundtracks – anything that aired on this channel was broadly discussed. Likewise, "Aşk-ı Memnu" has joined the brigade and has become a rage amongst drama watchers.
The drama serial is a romantic saga with a blend of passion, greed, ambition and grief. The tale revolves around the life of Adnan Ziyagil, a prolific business tycoon and a widower. He lives with his teenage daughter Nihal, his son Bulent, the children's nanny Mrs Denis and a distant nephew Behlul.
After losing his wife, Mr Adnan marries Bihter, a beautiful girl whom he falls for, and who is much younger to him. Soon after their marriage, Bihter's mother, Mrs Firdevs, joins the Ziyagils and lives with them as part of their family.
Soon interests change and Bihter falls in love with her husband's nephew Behlul, who is infamous for his playboy image. Bihter is young and passionate while Behlul is just a regular guy jumping from one relationship to another. He, thus, dumps his girlfriend and starts taking interest in Bihter.
Meanwhile, Nihal's transformation from a little girl to a young woman after her 18th birthday is rather uncanny. She starts fantasising about her life with Behlul, while he only considers her his little sister.
Resentments soon crop up and the story takes a spin when the two Bs are caught by their driver Bashir. The driver despises Behlul because his love interest, Nihal, is smitten by him. He also hates him because he's loyal to his employer Mr Adnan, and knows that is wife is cheating on him with none other than his nephew.
Bihter is reckless and obsessed with her new relationship. Behlul, on the other hand, is clever enough to not give in completely, keeping in mind his relationship with his rich uncle Mr Adnan. However, Mrs Firdevs during this rampage is in constant threat of the wealth she could lose because of her daughter's frenzied affair with Behlul. She tries manipulating Nihal towards Behlul which works against her own daughter as both the women worship the same man.
In my view, the script is not conventional, but the portrayal is. The breathtaking locales, the magnificent mansion on the shore of Istanbul's Bosporus strait, exotic cars and the luxurious lifestyle of the Ziyagils ─ it is a combination of all in one, and that's what makes it all the more appealing to watch.
I also find that the choice of voices for dubbing in Urdu aren't the most suited. There are awkward pauses and it sometimes takes away from the essence of the scene or dialogue. Since the drama has been toned down for being viewed in Pakistan, many scenes are censored too, leaving it a little choppy and taking away the flow.
The good part is that it airs on Urdu1 all seven days of the week, which is great for someone as impatient as I am.
Not only women, but men, too, are taking interest in the drama ─ a few for the plot, and many for the gorgeous ladies with impeccable fashion sense. The wardrobe, make-up, hair and accessories of the star cast may be one of the major reasons people watch "Aşk-ı Memnu".
All the actors in the drama have brilliantly performed the roles they are portraying, whether it is the devious Mrs Firdevs or one of the maid servants. One really ends up getting engrossed in their characters to the extent of getting annoyed in order to find something contradictory to what you had predicted. It's a must-watch and I recommend it to everyone who is on the look out for an addictive TV serial to follow.
Follow Mariam on Twitter @MHameedi