Will I get a job if I haven't graduated from LUMS or LSE?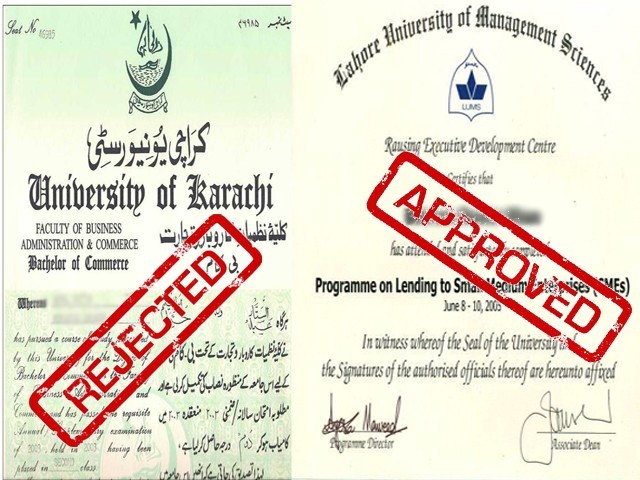 Call a top-notch organisation enquiring after their recruitment process and they will, more often than not,turn you down saying;
"We only hire LUMS and LSE graduates."
Today such blatant and disgusting bias is observed in many many multinational organisations across Pakistan. This is an extreme sort of epidemic prevailing in the recruitment process of many organisations.
A reality check must be given here. I feel obliged to inform these 'guided' organisations that many brilliant students are studying in universities that are far older than Lahore University of Management Sciences (LUMS), Institute of Business Administration (IBA) or even Lahore School of Economics (LSE). However, they are discriminated against, regardless of their capabilities due to the university they attended.
I recall one interview in particular, where the gentleman on the other side of the table asked,
"Why did you not choose to go to LSE?"
Here I want to make one thing clear to the readers, that I did end up acquiring admission in LSE but due to personal reasons I opted out of it. I certainly don't regret my decision and I am proud of being a 'Ravian'. Anyway, I am definitely not here to advertise my institute so better get back to the point.
I'm not saying that students from LUMS, LSE or IBA are not eligible or deserving; they certainly are. The question that I, and I believe many others, would want to ask prospective employers is, why are candidates from other universities not given an equal chance on the employment front?
A friend of mine from Government College University cleared all stages of the recruitment process of a well-known, reputed multinational company but after the final interview, she received a rejection notification. The feedback given to her was,
"You don't belong to a reputed business school."
Yes, I am not joking!
What a shame it is for such reputed organisations to have their standards stuck on such a ridiculous benchmark. Imagine the ideas and creativity they are missing out on by boxing themselves to a strict only-LUMS or only-IBA recruiting policy. Moreover, imagine how damaging this is to the morale of students who have worked so hard only to be turned down due to the school they attended. It just doesn't make any sense.
Another prevalent professional disease is one called 'reference-obia'.
I recently received the curriculum vitae of an MBA graduate from one of the more 'reputed' business schools. The girl had a 3.8 GPA and was applying for an internship position at a particular organisation. Her class fellows, who had lower GPAs' got into the same internship programme- but not because of his grades. He had something that requires no 'reputed' business school background; he had connections.
It is shattering to observe how MNCs now pander to the demands set by powerful people. Now, those graduates who don't posses high grades or good business school backgrounds use their contacts or more accurately, their daddy's contacts to secure the job that a hard-working student has pined for ll his life. The stronger reference wins the position. How unfortunate is it that MNCs – who have the word 'ethical' plastered on the front page of their list of goals – indulge in such a lowly act?
Proper recruitment test drives are useless because at the end of the day, the things that really matters to the recruiter is your university's name and of course, the strength of your reference.
Can you even imagine how severely demotivating this is for students who come from a lowly background but have worked hard throughout school to get a job that they inadvertently, out of no fault of their own, won't get?
So, to all organisations, it would be much kinder if the students are not degraded, stamped, labelled and punished just because they come from a public institute or a 'non-reputed' business school. It would also be nice if you give someone other than the bosses son or daughter a chance, no?
It is my plea to all organisations to make decisions on recruitment wisely and ethically. The person you rejected because he came from a public school with no safarish had a lot more drive and hunger to be a winner than the one who has been fed from a golden spoon all his life.
Think.
Follow Zahra on Twitter @zahraharoon