Will England be annihilated again by South Africa?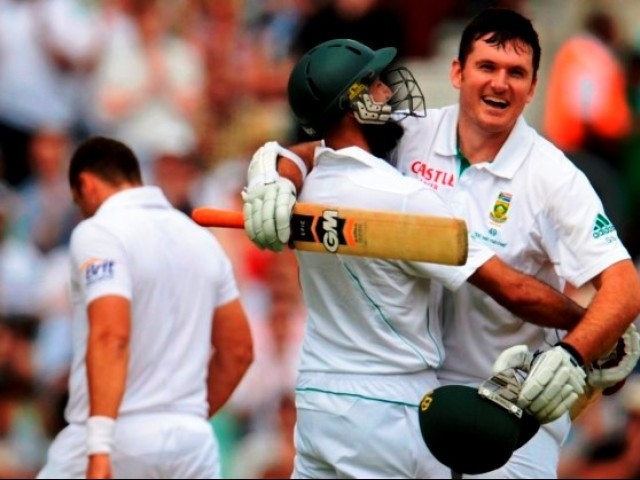 England has an uphill battle to save their number one status in World Test Rankings going into the second test match with South Africa. They were annihilated in the first match by a team that displayed mastery of English conditions that England couldn't muster itself.
South Africa lost only two wickets to England's runs of 20 and Amla outscored the whole of the England team's second innings singlehandedly; 311 to 240. This certainly does not reflect a contest billed as the battle of the titans or battle for the world supremacy; it was as one-sided as a contest could get.
England's reign at the top of the table has been hanging on by a fraying thread since that ill-fated tour of Middle East they undertook. A three nil loss to an emerging Pakistan team was dispiriting and their weakness against spin bowling was ruthlessly exposed to the world. The next tour to Sri Lanka yielded similar results for the team. But people were willing to discount these tours considering England's poor record in Asia, their traditional weakness against spin and the quality of spin bowling on display by the counter teams.
This loss, however, was in its own backyard and in conditions that they play under day in and day out. For fairness sake, I will state the conditions at the Oval pitch are far slow and dry so to blame the English players would a little too harsh considering the pitch usually poses difficulties for bowlers.
The much hyped English bowling attack was rendered ineffective by the South African batting lineup. Even Graeme Swann wasn't able to have an impact, a worrying sign for England considering that he has been one of their main strike bowlers for the past few years. Swann's form in 2012 looks good on paper with him taking 35 wickets from nine matches overall. But looking at the break up shows that in four matches played at home, he has only taken six wickets at an average of over 72 runs. Comparing this to 2011, he took 25 wickets from seven matches at home. This might be a worrying sign for England if the trend continues for Swann.
When South Africa were bowling, it looked as if they were playing on a different pitch altogether. Dale Steyn strengthened his claim to one of the all time great pace bowler by a display of hostility, pace and swing that broke the English resistance on the last day and ended up picking a five wicket haul. He was ably supported by the rest of the crew and Imran Tahir finally dished out a performance of note.
During their climb to and reign at the top of the ladder, England has suffered two previous humiliating defeats, Perth 2010 and Leeds 2009 from which they bounced back admirably. But, over the course of this year they have been in a sketchy form and have lost five out of the nine tests they have played. They have been beaten so comprehensively here by South Africa that it will take a herculean effort to bounce back.
A year ago, in another series billed as the battle of the titans on these same grounds, the world witnessed a changing of the guard. India was crucified by England who took the number one spot in Tests with a whitewash. India, the then number one team, didn't put up any fight in the face of a determined English team.
Another such offering might be imminent it seems. Will history repeat itself with England taking the place of India and South Africa replacing England as number one? Or will England be able to see off the South African threat in the second test is anybody's guess at the moment.
Read more by Amyn here, or follow him on Twitter @amynmalik