Going to Lahore? You must try these treats!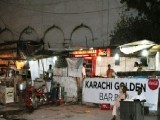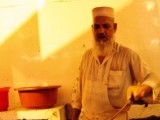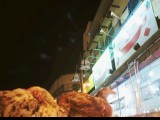 There is a phenomenon which might not be unique to Lahore but is indeed found at its beautiful best in Lahore ─ the food clusters. Due to the healthy competition in such clusters the quality of food is so good that it is often impossible to decide which one is the best. 
So let me enlighten you with a few such clusters and their mouthwatering speciality so that the next time you visit these places, you know exactly where to go and what will satiate your appetite.
Laskhmi Chowk: Karahi Tikka
To limit Lakshmi Chowk to one particular food item may be considered unfair. However, one cannot help but notice a line of restaurants called "Karahi Tikka" located on McLeod Road. In the late hours of the night, half the space on the road is used by these restaurants. 'Butt Karahi Tikka', 'New Butt Karahi Tikka', 'Bhatti Karahi Tikka', 'New Bhatti Karahi Tikka'; you get the picture, don't you?
Karahi tikka, for the record, is karahi gosht prepared in tikka style masala, without much gravy. What you'd find special about these places is that you have the option to choose the chicken you'd like to eat (or the piece of mutton that you'd like to have), have it weighed raw and then get it cooked for yourself!.
The option of getting broiler or desi chicken is also available. The speciality of the karahi is the butter it's cooked in. You can not only choose to have the 'makhni karahi', but you can also decide the quantity of butter in it (get it weighed, and have it put in your food!).
Finally, the karahi is served in the karahi pan with fresh roti or naan – whichever you prefer. I highly recommend this dish as it is an absolutely delightful treat.
Which one is the best of the lot you may wonder now?  By my experience, I would have to say  'Butt Karahi Tikka'.
(Dessert tip: Don't miss 'firni ki thoothion ke joday' (rice pudding in pairs of clay plates) from Abbot Road on your way back.)
Model Town: Bhaiyya Kebab
There must be around half a dozen kebab shops in Model Town's Market, D-block. More than one of these shops claim to be the only authentic kebab shop. From my experience, the kebabs are delicious regardless of their authenticity.
Small pieces of beef kebab with that imli (tamarind) sauce are as delicious as as food can get. Don't order less than a dozen per person I'd say. Kebabs taste amazing with parathas however naan is not a bad choice either. Chances are that due to the amazing taste of the food, you'll end up overeating. Hence, they have been considerate enough to have made available large glasses of fresh water soda (which would dance for you once you put some salt in it).
Again, to state which one is the best of all would be tough, but due to its comfortable seating arrangement and environment, 'Siddique Kebab Shop' is where I like to go.
If you're there in winters, which, by the way, is the best time to be there, you must have Kashmiri tea from one of the tea stalls in the market.
Purani Anarkali: Falooda
The two names that come to mind are 'Yousuf and Riaz Falooda' but there are a few other shops as well for your convenience. Dairy desserts are at their best here; you can have falooda, rasmalai or rabri wala doodh and many more delicious desserts.
With falooda you'll get the options of free extra toppings of rabri, sweetner and ice cream to make your custom bowl as per your choice of taste. The ideal time to go there is after dinner when the markets have closed down and sitting on the roadside chairs is a little easier. Otherwise, you can always stand on the side of the road or sit in your car and enjoy the exquisite taste of these desserts.
A walk on the 'Purani Anarkali' (food street) before or after the treat is definitely recommended just because its a wholly different experience in its own.
Liberty Market: Paratha Kebab
Once you turn you car in the street beside the flower shops in the Liberty Market, you'd be bombarded with hawkers and waiters from the 'Karachi -dash- Paratha Roll'.
The dash can be filled by 'Silver Spoon', 'Golden Spoon', 'Red Rock' and so on. Paratha rolls of various kinds are available; some with traditional chutneys, others with not-so-desi sauces like garlic sauce and mayonnaise. These rolls are very economical and easy on your wallet, but the taste is never compromised for the affordability.
I have not been able to decide which one amongst them is the best because I am yet to have a bad experience with any of the roll joints at Liberty. You may buy your meal on the basis of how nice the waiter approaching you is.
An offshoot of this paratha roll competition has emerged in H-Block, DHA, as well.
In the street beside the flower shops is 'Iqbal Tea House', a khoka or canteen, so to speak. Chai or doodh patti from there, preferably while sitting in the park, is something I've always enjoyed. So don't hesitate to try it after you've indulged in your paratha rolls.
Gol Gappay
Outside the gates of Baghe Jinnah are a few gol gappay stalls. Also, lately a cluster of gol gappay vendors has emerged on canal road, between Dharampura Underpass and Mughalpura Underpass. They sell various types of gol gappay – the variety factor being the different kinds of fillings inside them.
Due to the water used in the the khatta paani, I would ask you to try it at your own risk, if you must; the water may or may not be as sanitary as one would hope. For myself, it works just fine and I have not had any problems so far.
So this was a run down of some really great and popular food clusters that one must try at least once in their lives, if in Lahore. If you think I've missed any significant cluster (for example dahi bhallay, tikkay, qulfi), do let me know. We love to spread the awareness when its about pleasing our taste buds!
Read more by Aleem here or follow him on Twitter @aleemzubair