The passport scam is a sorry start to the London Olympics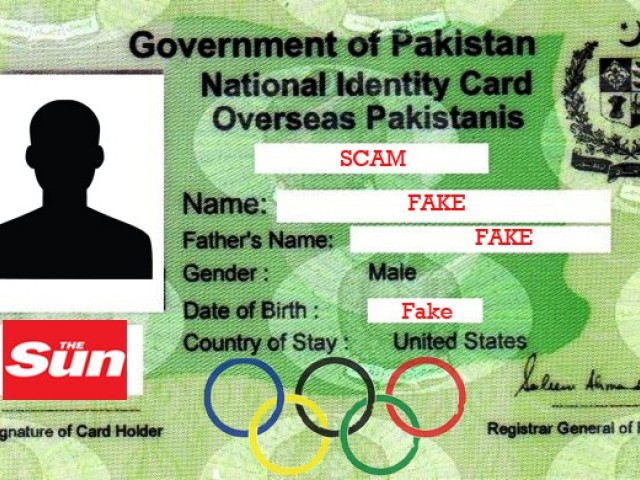 Just like any thriller, the sequence of events surrounding the Olympics visa scam, leaves one completely dazed. First came the not-so-shocking revelation that one can get a fake Pakistani passport and if you can dole out more money, even a spot in the Olympic squad, as the British tabloid, The Sun recently insinuated.
Countless counter-allegations and some multiple arrests later, National Database and Registration Authority (Nadra) has now come out saying that the whole scam episode is in itself a scam altogether. However, there are still many unanswered questions hanging in the air.
Some quarters immediately started saying that this was an attempt to malign the Pakistani contingent, and to hollow down their hopes of acquiring gold. A peak down history lane is a must to answer this specific criticism.
Let's look at the country's past performance at the Olympics;
The best Olympics we have had were way back in 1960, when we won just two medals. The last medal we ever won, which wasn't a shiny gold one mind you, was at Barcelona in, not surprisingly, Field hockey back in 1992, where we won a bland bronze medal. And that is where the sorry tale ends. This short bout of history should be enough to silence any conspiracy-courting jesters.
Coming back to the scam, a number of things need to be pointed out. Nadra claims that The Sun correspondent was himself present for the renewal of his expired CNIC, as opposed to The Sun's claim that it was someone else's identity that was being hijacked. Even though Nadra has one of the best systems in the world right now, this episode highlights the need for red-flagging for unusual requests i.e. renewal after quite some time or renewal for someone based outside Pakistan. If such systems are already in place, then they ought to be made more stringent.
In all honesty, fake visa scams are not something completely new to us. We know there are dodgy people out there, who are willing to compromise national sovereignty and respect for some lowly green-backs. Having said that, the visa process has become more and more complicated now, as host countries continue to become aware of these wrongdoings; proactive steps have been made by all visa issuing authorities to curb this illegal activity.
The British tabloid, however, alleged that a politician with links to the sports board acted as a liaison in potentially getting a visa. This needs to be thoroughly investigated and severe repercussions need to be meted out to any culprits involved.
Most importantly, this whole scenario should serve to highlight the plight of the athletes in Pakistan. With hardly any resources at their disposal and almost no state support, the system is going quickly redundant. No wonder then, that the situation is dire, and there are hardly any Olympic-level athletes.
Pakistan's squad this time around includes 23 players and 16 officials. This includes the wildcard entrant long-distance runner Rabia Ishaq, who is one of the nation's two female athletes. Rabia has gone on record to say that her participation is symbolic and dedicated to the deceased female sprinter Mubeen Akhtar.
And with the disarray and controversy surrounding hockey in the build-up to the Olympics, any hope for any medal whatsoever would indeed be a miracle. And as a nation, we tend to forget that miracles happen to honest and sincere people, not visa-scamming artful dodgers.
Read more by Dr Rai here or follow him on Twitter @MAliRai