PEMRA: Complain today, gone tomorrow?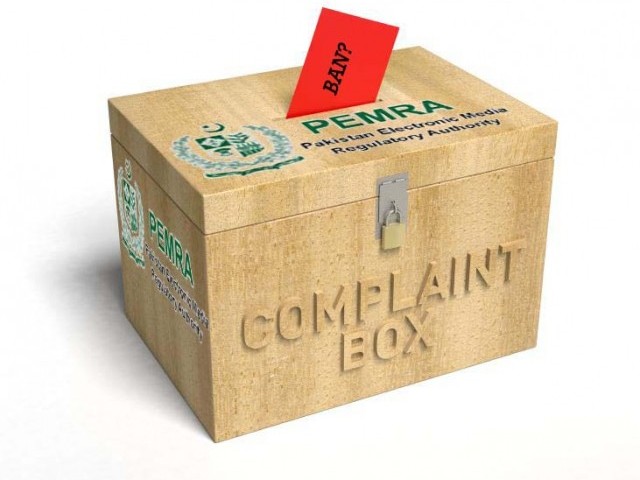 Pakistan Electronic Media Regulatory Authority (Pemra), over the years, has maintained an active role over complaints it receives via its website form and email. It maintains a parallel system of independent 'Council of Complaints' in each province which redresses public grievances relating to media conduct and directs Pemra to play its regulatory role where necessary.
Many small interest groups, have seen in it an opportunity to direct the regulatory body in particular directions and as a way of exerting pressure over broadcasters. The numbers of complaints are thought to represent the extent of public opposition to a particular show. However, this isn't a very objective method of measuring public response:
The few thousand people who do complain form a cabal and tell each other to do the same. Hence the motivation is anticompetitive since it arises from a concerted group effort rather than personal deliberations.
There is no form to register appreciation of a controversial program that would tend to balance negative feedback. As such only complaints are taken into account – not positive feedback.
Even if such a form exists, people who are already happy with a said program wouldn't really feel any need to use it. This is because unlike the complaint form, it does not request any particular action on the part of Pemra (complaint forms on the other hand want a particular program to be blocked).
Mustering public support for a cause, convincing other members of the public and presenting petitions to the public are a part of a legitimate -and in fact democratic -process of registering grievances. Such public petitions, protests and demonstrations all serve to consolidate and show support for a cause and to give rise to debate.
However, the Pemra complaint form is none of these. It is essentially a medium to register non-compliance of stipulated media regulations that would have to be looked further into by the regulatory authority.
There have been several bouts of activism (regardless of the merits of their complaints) on the internet and other communications media directing public to register complaints with Pemra. Often such invocation comes complete with a pre-written draft to save the effort on part of the prospective complaint-lodger. Such methods eventually result in a large pile of complaints at the watchdog's doorsteps, who presumably bows in favour of this dedicated cohort of activists, giving the impression that it is responding to public grievances.
To see that the complaints are fairly regulated by the authority, I suggest that complaint forms should be employed to raise valid points about a particular program, and not as a way to 'vote out' a program. There should be separate parameters to assess how many members of the public concur with a complaint. As such, whether a particular point is raised in one complaint or several thousand, it should be treated in a similar manner -like a valid point that needs further evaluation.
In other words, the number of complaints received is not a good measure of the magnitude of public opposition. It is just a number of valid issues that some people have raised against a show. As such, this number should be seen in its correct perspective.
Regulations that govern media programs should be well thought out and grounded in firm principles shared by a larger public consensus. For the regulatory body to sway in response to any dominant activist pressure makes for fickle regulatory approach susceptible to the actions of pressure groups.
As such, complaints should only be redressed against the backdrop of the governing principles and regulations, and not the ever changing public opinion. Unless television shows are moderately regulated, with a section of people who choose to vote against a particular programme and those who choose not to vote against it nor for it, under the prevailing system, you may not have many programmes left to watch at all!
Read more by Hasan here, or follow him on Twitter @hasandoctor