PTI and PML-N: Pro-US or anti-US?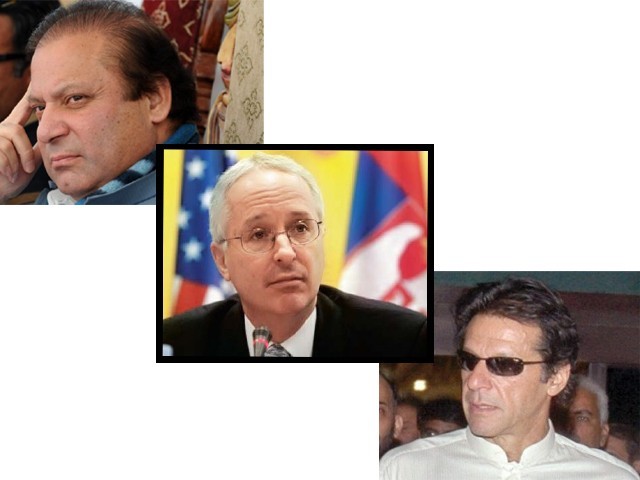 Recently, in an interview with BBC Urdu, the US Ambassador to Pakistan Cameron Munter revealed that he had met with PTI Chairman Imran Khan and PML-N Chief Nawaz Sharif. He further stated that both leaders had assured him of a pro-US government if elected.
Now, this has come as a huge surprise to many people given that these two leaders have portrayed a distinct negative stance towards the US in their political statements in the past.
However, should we really be surprised?
This is not the first time Nawaz Sharif's links with the US have come into the limelight. Earlier in 1999, during the Kargil conflict, Nawaz Sharif's inclination towards the US had been observed when he had visited the US at the peak of the conflict. He met with some high profile leaders there, including President Bill Clinton just before the decision of withdrawing the troops from Kargil came forth. At this time, Pakistan's position was very strong; most of the posts were already under Pakistan's control, but Nawaz Sharif signed the Washington Accord on July 4, 1999. He accepted the US terms while the united platform of the Kashmiri and Pakistani fighters refused to accept the government's decision.
This secret meeting recently revealed by Munter seems like an unfortunate repetition of history.
What came as an even bigger surprise to me, however, was Imran Khan's alleged meeting with Munter.
Now, if you recall, Imran Khan is well known for his anti-US stance on the NATO supply routes, the Afghan war, US aid, drone attacks on Pakistani territories and the list goes on. For the first time known to the public, Khan seems to have taken a pro-Us stance! This is in total contradiction to what he made the basis of his politics. Imran Khan has remained vocal throughout his political career against the policy of aligning with the US to the point that he has attracted the rightist anti-US voters. Imran Khan has criticised the government's US friendly policies on numerous occasions, so him meeting Munter and assuring him of a US friendly government has come as a bit of a let down to his supporters.
This revelation has, indeed, put the PTI and PML-N  supporters in a quandary. Think about it; if you support a party, it isn't because the leader is good looking. It is because you support their policies. Thus, when Imran Khan goes and does something which is against everything he stood for, doesn't this raise a question of whether you should still support him or not?
Granted, Khan has issued a statement saying that he is not anti-US, he is just against their policies, but this is just word play; Pro-US means not meddling with US foreign policy, and allowing the transport of NATO containers. You cannot be Pro-US but against their policies. I am just wondering whether Jamaat-e-Islami (JI), Ahle Sunnat wal Jamat (ASWJ) and Jamaatud Daawa (JuD) are re-thinking their relations with both the parties.
Munter's revelation has left people with some obvious questions in mind.
Many are wondering whether, now, their support for the PTI and PML-N will mean their indirect support for the US. Questions are emerging of whether drone attacks will continue if PTI comes to power; whether the PML-N will fulfil its promises to the people or to the US; whether Pakistan's soverignity will be attacked even under the leadership of the PTI.
People are now wondering who exactly to vote for.
The burning sentiments of the people against the US had had convinced them to support Imran Khan or PML-N. I am almost certain that this will change if Imran Khan or Nawaz Sharif is found to be siding with the US.
Loading ...