Banking bullies and the way to set them straight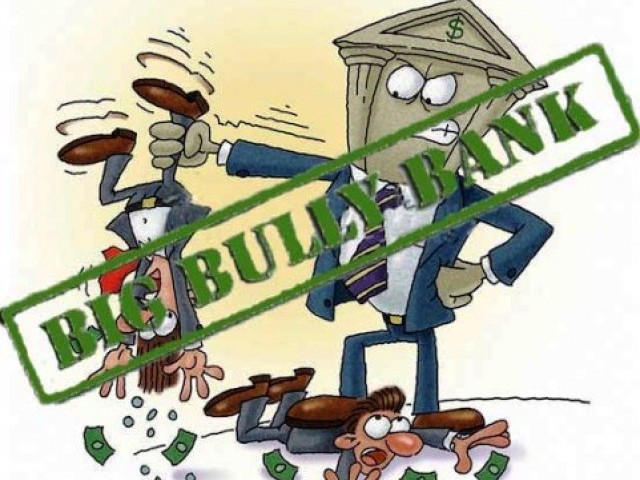 Every now and then there is an instance where a banking institution treats its customers like trash and does everything that is not to be done with regards to customer service.
I recently had a similar experience at a bank in Lahore where I have an account. I was shouted at in the bank by employees who refused to listen to me and instead told me to get out as they did not want to help me. I am certain other people have gone through horrible experiences with other banks just like I did with mine. So, what does a consumer do after something like this happens?
What do you do when the bank that has your money turns on you?
This is exactly what I am attempting to answer in this post.
The first step is to get in touch with the complaints office of the bank. The complaints office is based at the financial institution's headquarters. Give them a call and ask about the procedure to submit a written complaint. This would involve writing an email to a concerned person at the department with your account number and branch details. Make sure that the email address belongs to a person and not to an entire department. In case they give you a department email, insist on being given a specific person's email address.
Make sure that the written complaint includes the phrase 'if the bank does not solve this complaint within 45 days, as per the rules of the banking mohtassib's (ombudsman) office, I will forward my complaint to them'. This line is crucial as without mentioning this, your complaint will not be entertained by the banking mohtassib.
Next call any one of the following numbers:
021- 99218147
021- 99218148
021- 99218149
These are numbers for the Consumer Protection Department (CPD) at the State Bank of Pakistan. Call them up and tell them your complaint. Make sure that you give the specifics of what you are complaining about. They will ask you to submit a written complaint and you can do so by sending an email to [email protected]
Once you are done doing this, print out a copy of your email to the CPD as well as the email you wrote to the bank's complaints office. Write a new letter addressed to the CEO of your bank. Explain to the CEO what happened and why you are complaining; attach both the emails you wrote earlier as a proof of you taking action. Contact details of all CEOs of banks operating in Pakistan are available here.
As customers, it is our duty to report these instances because in most cases, people never actually report misconduct and choose to simply switch to another bank.
Taking action is easy and I hope this information will simplify the process for anyone who is interested in doing so. I know a lot of people who are sick of the way their banks treat them and overcharge them – all of them can use this mechanism and get some relief.
Read more by Adnan here or follow him on Twitter @adnanrasool