Federer ends Wimbledon with a bang!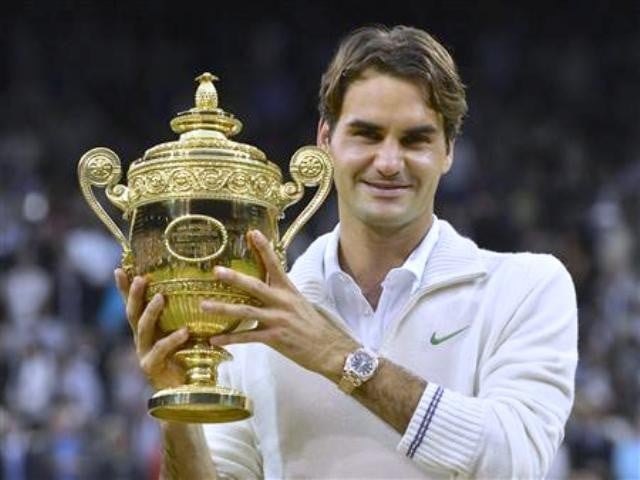 Sometimes even the bare statistics can be enough to tell the entire story.
With this four-set victory over Andy Murray in the Wimbledon final, Roger Federer won an astonishing 17th grand slam, three more than any other man in the history of the game.
He also tied Pete Sampras' record in winning his seventh Wimbledon and, in two weeks' time, will overtake Sampras for the most weeks spent at number one– an  unbelievable 286 weeks at the top of the rankings; with Andre Agassi being the only player to have reached the pinnacle of the rankings at a more advanced age.
As devastated as Andy Murray may have been, with the tears flowing freely over his face after his loss, he too can seek some consolation in the numbers. Murray put up a good fight against Federer and no one can doubt that.
He has the distinct misfortune of being a merely excellent player existing in an era where three all-time greats have taken tennis to a whole new level. Since Federer's win in the Wimbledon 2004, he, Rafael Nadal and Novak Djokovic have won all but two grand slams. In the five years before that, repeat slam winners were an exception, not the norm.
Murray can also take pride in being the first British man to reach a Wimbledon final since 1938. It has been a long wait for the Britons indeed.
But yesterday was all about Roger Federer. Numbers may be enough to explain his brilliance; what they cannot account for is his style, grace and popularity.
Now just a couple of months shy of 31, Federer is no longer as speedy across the court, making it just a tad bit harder for him to chase down balls. This also results in a slightly higher percentage of flubbed shots, which creates the impression that he is no longer as stylish as he was in his mid-2000's peak. He has made up for this by adding even more versatility to a game that was already the most dazzling in the history of tennis.
This man never fails to provide us with tennis ingeniousness.
His drop shot is now a weapon rather than a last-ditch attempt to salvage something out of a losing point. In the final, he volleyed better than he has for years. Only now is the rest of the tour realising that his one-handed backhand, long considered a weakness, has actually developed into a reliable weapon that is even more consistent than his deadly, if shaky, forehand.
It is the bunch of us 'Federer fanatics' who always want more from the legend. Can you blame us though?
Three weeks from now I will be fervently praying that he keeps finding those impossible angles and wins his first Olympic singles' gold. Victory at the US Open, too, would be nice since it would give him more titles at Flushing Meadows than any other player. Surely, even 20 grand slams is not an unreasonable expectation from him. Don't you think?
Even if he manages any or all of the above, it would simply be a validation of his legacy as the greatest player to ever have hit a tiny, fuzzy yellow ball.
For over a decade, he has played tennis at an aesthetic level that may never be matched and broken just about every record that exists. To ask for or expect anything more would just be plain greedy.
Read more by Nadir here or follow him on Twitter  @Nadir_Hassan