The Dictator is no Borat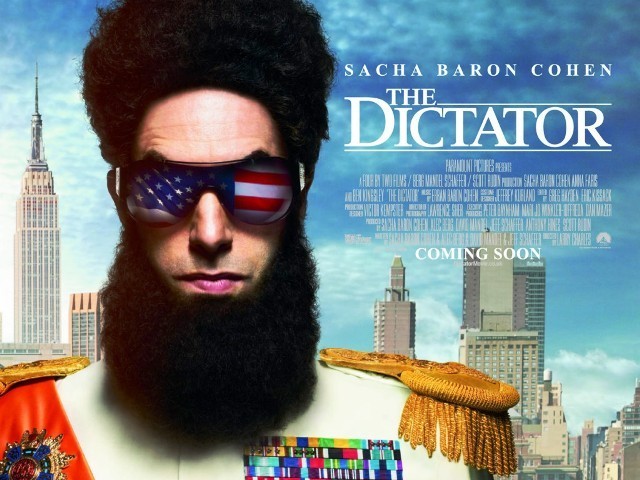 Those who are familiar with Ali G, Borat and Bruno, must definitely be waiting for the new and much awaited movie by Larry Charles called The Dictator which stars Sacha Baron Cohen.
There is no doubt that the actor is amongst the finest comedians and can bring life into any script with flare. But this particular movie surprisingly received a mixed reaction from the audience.
The Dictator is based on the bestselling novel Zabibah and the King, purportedly penned by Saddam Hussein.
The movie tells the tale of a ruler (a dictator) who lived a jeopardised life trying to make sure that democracy never enters his land. Cohen portrays the role of Admiral General Aladdin along with the talented Ben Kingsley as Taamir.
As far as the performances of both the actors are concerned, without a doubt, they both do justice to their roles. But one cannot go overboard when the script is weak and unfortunately, that's what happened in the case of The Dictator. Well-known writers Alec Berg, David Mandel and Jeff Schaffer could not manage the mirth that was expected. On the contrary, the direction by Charles is what, in my opinion, saved the movie.
While Cohen is a brilliant actor, the role that is played by him in this particular movie wasn't too impressive. Having said that, he manages to provide some great laughs, especially when he discusses Osama bin Laden and his death. Ana Faris' performance is pretty solid too.
This is amongst the first of the few American movies that have dared to make a dig at 9/11 and make the audience laugh – a bold step in itself.
Those who have high hopes from The Dictator will definitely be disappointed; those who are watching it just for the heck of it might actually like the movie. Some jokes are funny but the the rest range from filthy to terrible to insensitive.
Advice: Before watching this movie, throw away the expectations that came along with the legacy that is Borat.
My personal rating for the movie was a 5.5/10. Let's hope it fares better with you!
Read more by Shafiq here, or follow him on Twitter @shafiqulhasan81