Dear Mr Kundi, I beg to differ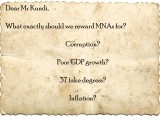 In his untiring and relentless efforts to safeguard the glory of the Parliament of the Islamic Republic of Pakistan, Mr Faisal Karim Kundi has demanded an increase in lawmaker salaries and perks to increase their efficiency.
Mr Kundi, dare I say that our lawmakers are already quite efficient in achieving their motive? I strongly believe that the members of the present legislature, especially from the ruling party and its alliances, are the most efficient group of people allegedly focused on corruption, theft and above all authorising a certain person to override the rule of law.
As far as the comparison with other South Asian nations is concerned, let's just talk about facts, shall we Mr Kundi?
Our neighbour and former arch rival, India has a population of over 1.2 billion people who are represented by 543 legislators in their National Assembly, the Lok Sabha. According to these numbers, each member of the Lok Sabha represents 2.2 million Indians in the parliament.
On the other hand, you my dear are 342 in total, representing a population of approximately 17 million poor people, thus each one representing a mere 497,000 Pakistanis. This fact alone renders your Indian counterparts eligible to four times the salary your fellow members are getting, or in other words, Mr Kundi, you are only eligible for one fourth the salary and benefits each Indian MNA gets.
They say that education plays a significant role in the progress of any country. This applies to those entrusted with the responsibility of leading the nation's progress raised to the power 'n'.
Since you Mr Kundi, made comparisons with other South Asian countries, let's again go to India for some statistics.
Out of 543 members, 420 members (ie 77%) hold at least a Bachelor's degree, with 147 holding a Master's and 30 holding PHD degrees which means that one in every 18 members is a PHD.
Unfortunately, on the other hand, despite efforts I was unable to find education statistics relating to your colleagues. What I did find, however, was the fact that 37 of your colleagues hold fake degrees.
What do you suggest?
Parity again?
I fear, Mr Deputy Speaker, what your colleagues deserve in parity has been slashed by another fourth taking their eligibility to 1/16th of what their Indian counterparts are getting.
On the economy and prosperity side, both India and Bangladesh have literally outdone us during your era Mr Kundi. Pakistan's GDP growth rate stayed at 3.68%, 1.72% and 3.76% during 2008-09, 2009-10 and 2010-11 fiscal years respectively, with this year's growth expected to stay close to 2.4%.
Real GDP growth rates of both India and Bangladesh stayed over 5% annually over the same period.
Living in the same region, if their elected representatives can help them achieve this, they deserve their remuneration. Living in the same region, if Mr Deputy Speaker, your colleagues were not able to get even close to that, then I am extremely sorry, they deserve a cut on their remuneration.
Mr Deputy Speaker, for a nation, sick and tired of false claims of prosperity and resolution of problems made to them by these legislators, I believe it is a shock to hear you say that you intend to propose an increase in the remuneration of these same legislators. An elected assembly and government for that matter, who has been unable to address the basic problems of the nation like the energy crises, inflation, unemployment, security and the exhaustive list goes on, it is quite a joke to demand any increments.
Being the deputy representative of the House, instead of you coming forward and saying, that we commit to get back whatever has been stolen out of the exchequer by the members in corruption, you come forward and express your intention to reward those responsible for the chaos around us all?
How utterly tragic.
Having said everything above, I would request Mr Deputy Speaker to quantify the difference between what the Indian representatives are getting and what our representatives are getting to give the nation a clear picture of your claims. Once these representatives meet the above comparison criteria, please go ahead and reward them with the raise you proposed.
———————————————————————————————————–
Loading ...