Making sense of Pakistan's new squads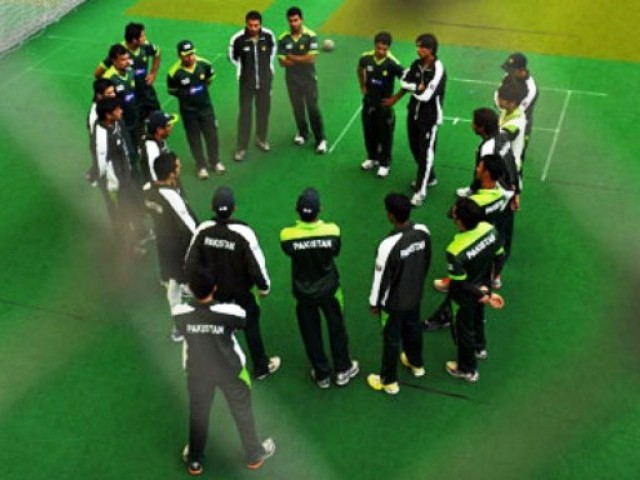 The Pakistan Cricket Board press conference to announce the squad for the tour of Sri Lanka started well. Misbahul Haq stepped down as T20 captain, and Zaka Ashraf announced Mohammad Hafeez as the new T20 captain – well-played by the PCB in ensuring that Misbah 'stepped down' and was not pushed out.
It is up to Hafeez now to demonstrate his leadership potential, which we all have heard of, and make that role of captain his very own.
After this revelation came the announcement of the new squad. No wait – the new squads. The dream that PCB was contemplating regarding three different teams finally came true.
But only four players made it to all three squads: Hafeez, Ajmal, Gul, and Mohammad Sami! While it is great that Sami's made a comeback, how does one go from being out of favour for so long to being in favour for all three formats?
The selectors made a number of changes and it all seems like an utter kichri to me. I don't mean to undermine them; I'm sure it was hard work but I don't remember the last time so many players made a comeback.
T20 squad
Retained: Hafeez, Afridi, Umar Akmal, Umar Gul, Ajmal, Malik, Hammad
Dropped: Misbah, Awais, Wahab, Shafiq, Rehman, Cheema, A Akmal, Farhat, Junaid
Comebacks: Latif, Shehzad, Arafat, Tanvir, Sami, Jamshed
New Faces: Shakeel, Raza, Sohail
This is what I call a total overhaul.
Shoaib Malik's retention upsets me. He has continuously failed at the international level, and it doesn't matter that he's performed in domestic cricket. Who hasn't?
The axing of Awais Zia and Asad Shafiq is questionable.
Awais didn't set the stage on fire in his debut series against England, however he showed potential. It doesn't make sense to drop him after just one series. And what wrong did Shafiq do?
Besides Khalid Latif, who was the leading run scorer in the Faysal Bank T20 (FB T20), the other comebacks don't make sense.
I am a big Ahmed Shehzad fan. He is a future Pakistan opener, however unless the BPL was part of the criteria, there is no basis for Shehzad's return. Other batsmen, namely Imran Nazir, Shafiq, and Shahzaib scored more runs in the FB T20; Nazir and Shahzaib had decent outings in the BPL too.
Yasir Arafat, Sohail Tanvir, and Mohammad Sami have done nothing of note in domestic T20 competitions to warrant a comeback. Sami was outstanding in the BPL, Tanvir was a star in the South African T20 competition and Arafat has been a consistent performer in county cricket; but if foreign competitions are the criteria then the selectors need to make that clear.
Despite the questionable comebacks, the three new selections are well-deserved. Haris Sohail and Shakeel Ansar, both from the Sialkot Stallions, were among the top 5 run scorers in the FB T20, while Raza Hasan has been on the fringes of national selection for some time now.
Shakeel has been picked as a wicket keeper, and his century, which was the only one in the FB T20, showed that he can bat. But he's 33-years-old; so the selectors aren't exactly looking at a future prospect.
Sohail performed consistently for the Stallions in the FB T20 and has been a solid performer at the domestic level for the past 5 years. His T20 record with an average over 100 is phenomenal, and at 23, he is definitely one for the future.
Raza's call to the national team couldn't have been better-timed with him finishing as the leading wicket taker in the FB T20.
The selectors have picked a specialist T20 team keeping the World T20 in mind, but it is largely inexperienced. It will be interesting to see the combination they go in with considering the team is top-heavy with five openers.
ODI squad
Retained: Misbah, Hafeez, Jamshed, Younis , U Akmal, Sarfraz, Afridi, Gul, Ajmal, Rehman, Shafiq, Cheema, Azhar Ali
Dropped: Hammad, Wahab
Comebacks: Farhat, Sami 
New Faces: Rahat Ali
The ODI squad is almost what it was in the Asia Cup and the series against England, with just a few changes.
Wahab Riaz suddenly finds himself out of favour. The person replacing him is Mohammad Sami, who once again, did not do much this past season in List A cricket.
Imran Farhat's inclusion and Hammad Azam's exclusion are completely nonsensical. Farhat was dropped for the Asia Cup due to repeated poor performances; yet he comes back for the series against Sri Lanka. Why?
Every chance that Hammad got, he has shown potential. Hammad can be groomed to fill the gap left open by Abdul Razzaq. And yet, the selectors are on another plane.
Rahat Ali impressed Whatmore during the recently held fast bowlers' camp. He also had an impressive first class season with 61 wickets at an average of 19, finishing as one of the leading wicket takers. But that was first class cricket, which should get him a place in the test team, rather than the ODI.
Test squad
Retained: Misbah, Hafeez, Taufeeq, Azhar Ali, Younis, Shafiq, A Akmal, Gul, Ajmal, Rehman, Junaid, Cheema
Dropped: U Akmal, Farhat, Talha, Wahab
Comebacks: Faisal Iqbal, Sami 
New faces: Afaq Raheem, Ayub Dogar
The way Pakistan's Test team has performed over the past 18 months, there was no need for any changes, but the selectors thought otherwise.
Why drop Umar Akmal, who is the future of Pakistan's batting? Sure, he has not been part of the starting XI in tests with Asad Shafiq being preferred, but Umar's presence in the squad as a reserve batsman is imperative to his development.
Faisal Iqbal makes a comeback based on his impressive domestic performance. He had one of his most successful seasons with 1,013 runs at an average of 53.3. Faisal's 5 centuries during the past season were second only to Usman Salahuddin's 7.
However, Fawad Alam (1062 runs at 62.4), Haris Sohail (1184 runs at 49.33), and Yasir Hameed (1124 runs at 46.8) would be disappointed at being overlooked. But the man who would be most disappointed is Usman Salahuddin. With 1401 first class runs, an average of 77.8, and 7 centuries, Usman was by far the best batsman this past domestic season. Yet he finds himself on the sidelines.
Afaq Raheem was the only one who scored more first class runs than Usman last season, with 1420 runs at an average of 54.6. There is no doubt that Raheem deserves his places in the squad, but I believe Usman does too. Considering that Usman is only 21 years old, he should be considered as one for the future, especially over Ayub Dogar, who despite being the third highest domestic run scorer, he is 32 years old and not really one that Pakistan can build their test future around.
This is the only format where Mohammad Sami deserves a comeback. He had one of his best first class seasons ever with 56 wickets at an average of 16.6. But he doesn't take international wickets.
A bowling average of 50 is hardly one to be proud of. This will surely be his last chance so im hoping he proves the statistics wrong.
As I said at the beginning, I feel the squads are a bit of a kichri, but more importantly the selectors have missed a few tricks: the lack of an anchor and over emphasis on openers in the T20 squad; lack of genuine pace bowling all-rounders in the ODI squad, and the decision to leave Umar Akmal and Rahat Ali out of the Test squad are poor.
This post originally appeared here.
Read more by Umair here, or follow him on Twitter @WellPitched