Jannat 2: True Bollywood cinema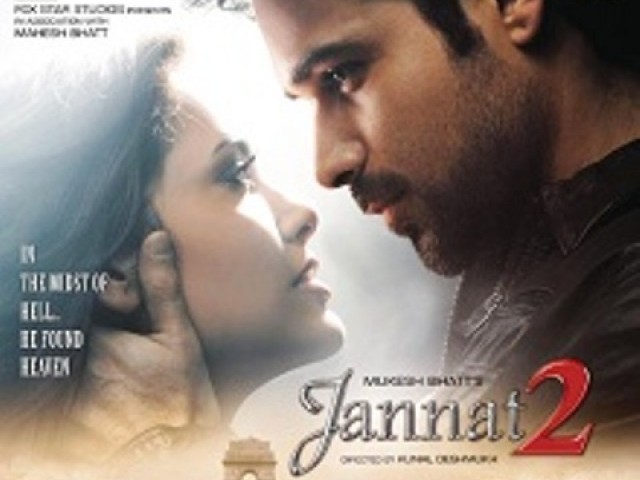 Thrill and adventure is the concept that embodies the work of the Bhatt camp (Mahesh Bhatt and Vikram Bhatt) and this particular invention they managed to churn out is phenomenal.
The Bhatts have produced many movies that have been lauded by viewers, some controversial and some with a message. One thing is for sure, they know the mindset of the audience and how to penetrate it.
The story line depicted in the movie lifts the audience out of their comfort zone and helps to view a different aspect of mainstream cinema. Movies like Arth, Saraansh, Naam, Daddy, Awargi, Zakhm, Tamanna, Jism, Raaz and Zaher are all examples of how Bhatt movies are different from the rest.
After Jannat's success, they have brought back Emraan Hashmi with a sequel – kudos to their choice for doing so!
Jannat 2 has a simple plot.
'Sonu Dilli' aka 'KKC' (Emraan Hashmi) is involved in arms trafficking along with his friend 'Balli' (Mohammad Zeeshan Ayub).
A police officer, known as 'ACP Pratap' (Randeep Hooda), who lost his wife in an accident, has made it his mission to eradicate the illegal use of arms and ammunitions. Pratap uses and manipulates Sonu Dilli to work for him so that he can crackdown the head arms trafficking dealer.
Sonu, on the other hand, has other plans and instead falls in love with 'Jhanvi' (Esha Gupta) who wants to live a simple life that must be free from illegality.
Things turn around after Sonu marries Jhanvi.
The twist in the tale comes when he comes to realise that the head of arms trafficking is none other than Jhanvi's own father, 'Mangal Singh Tomar' (Manish Chaudhry).
Sonu now comes to a crossroad and has to decide which way he should go; torn between whom he should protect and love, he has to choose whether or not to help ACP Pratap, stay loyal to Mangal Singh or leave the country with his love – Jhanvi.
As far as performances go, every actor in the movie excels and shines.
Emraan Hashmi is a fine actor – no second opinion needed. He manages to surprise his viewers with every role.
In this particular movie, he plays an extremely diverse role, both in terms of performance and dialogue delivery.
His very first dialogue will capture you enough to make you love his character. This is, undoubtedly, one of his finest performances.
Randeep Hooda has talent that has never been tapped which is why this amazing actor has such few films to boast. The actor, who started his career back in 2001 with the Monsoon Wedding, has only performed in 10 movies (including this one). The interesting thing is that he performed the roles of a cop in D, Risk, Once Upon A Time In Mumbai and Jannat 2 and being the blessed actor that he is, all his performances have distinctive features showcasing his acting skills well.
In Jannat 2, Randeep Hooda performs a complicated role that not many actors in the industry would be able to act out. He plays an evil, cold blooded character whose soft side is suppressed due to his past. For a person to be able to depict all these emotions together in one character is not an easy feat and Hoda managed to perform brilliantly in every scene. Do watch out for his jaw-dropping climax performance.
As a debutante, Esha Gupta's performance was surprisingly good, while Manish Chaudhry's performance was also a welcome surprise.
In his third movie, Mohammad Zeeshan Ayyub has managed to impress his audience quite remarkably; he has natural talent and Brijendra Kala, as always, provides justice to his role.
Kunal Deshmukh (director) and Sanjay Masoom (dialogue) have shown audiences once again that they have the ability to produce magic on screen. Although the music complements the storyline, I expected better.
In short Jannat 2 is an amazing experience for those who enjoy great script, flawless performances, good action sequences and true Bollywood cinema.
I give it an 8/10 for entertainment – a must watch!
Correction:  An earlier version of this blog post misspelt Randeep Hooda as "Randeep Hoda". The error has been corrected. 
Read more by Shafiq here, or follow him on Twitter @shafiqulhasan8