Remembering my Misil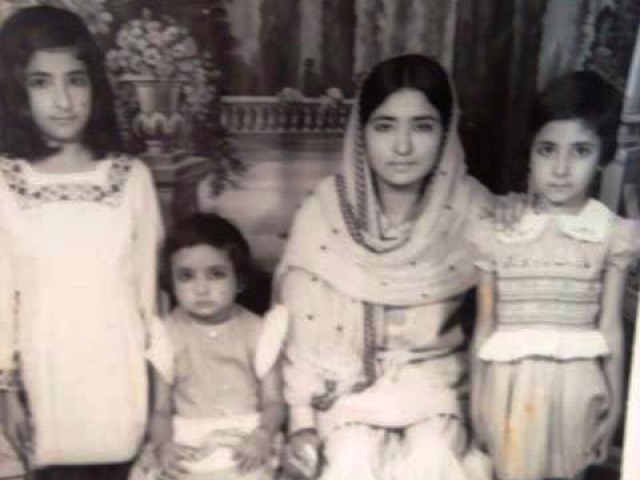 Mother's Day is here, but June 1, 1998 will never come again.
Today I am writing about my mother, my Misil, for the first time in the last 13 years.
She was a simple lady. We never knew her date or year of birth. The only thing we knew was that she was born during the barsaat (monsoon season). I don't remember an instance when she took longer than 10 minutes to get ready to go somewhere. She never wore make-up.
She was even simpler in her eating habits. She would eat anything except for baingan (eggplant). While cooking, she made her ownmasalas; her biryani was pretty good, but I don't remember how it tasted any more. Her parathas were extraordinary and she even she made aam ka achaar (pickled mangoes) at home. As kids we used to look forward to the summer just so we could have that raw achaar.
She wasn't literate. She never went to school. The only thing she could write was her name, which she learned when she needed to open a bank account and sign cheques. We wrote the cheque for her and she signed it. She wasn't educated, but despite that she made sure her children were. It was very uncommon for a family like ours to educate girls, but my Misil had a different dream for my sisters. All of them got postgraduate degrees in their respective fields while their cousins dropped out of school one after the other. Thanks to my Misil, my eldest sister was the first girl to complete her masters in the history of my family.
When I did well in my tenth grade board exams, she gave me a computer as a gift. I had been away on a camping trip with my school team and when I came back, I had a computer at home. This was back in 1997. She was an uneducated Pakistani woman who chose to gift a computer to her son when not many people had one in Pakistan. I don't think I need to describe how much it helped me in my life.
She was a very strong woman. She raised six children on her own as my father spent most of his life abroad for work. The only time I saw her cry was in 1995 when we were leaving our grandmother's house in our village after a short trip – just a few silent tears as she left her own mother and the house where she was born. We are a very inexpressive family. We don't tell each other how much we love each other or how important we are to each other but we all know it internally. She never hugged me or told me that she loved me, but she didn't need to.
When we moved to Buffer Zone in 1983, our house was the only decent place in the city where visitors from our village could stay. Very soon, it became a temporary residence for all the young men of our family who came to Karachi to look for work. To us, all of them were Mamoo (uncle). They were her brothers, cousins, cousin's cousins and so on. The number kept increasing. The upper floor of our house was like a barrack with a dozen beds. At one time, there were more than 10 Mamoos living with us – no exaggeration. She looked after them and her children and cooked and cleaned for all 18 people. One addition to the list of eaters was Saaeen. Saaeen was the Sindhi night watchman of our neighbourhood who would get food from our house. As time went by, one by one my Mamoos established their respective jobs in Karachi and left our house.
My mother then fell ill.
Naturally, for ignorant people like us who had only heard the word cancer in movies and TV serials, it was difficult to understand. The seriousness of her illness dawned upon us gradually when we saw her wasting away, losing weight, losing hair and eventually losing life.
The last month of her life was very painful – for us and for her. We knew she was going and we could do nothing. I wasn't even 17 and my younger sister was 13. All of us were silently trying to imagine how life would be without her.
On one of those days, I was sitting next to her when she told me to check the main gate. At the time, she could barely open her eyes. The flesh on her entire body was gone and she was only bones. Because of the chemotherapy, her head did not have hair and was always covered in a scarf as she did not want anyone to see it. She ran a fever throughout the day.
"Can't you hear the doorbell?" she asked.

"It's not ringing," I had said politely.

"I can hear it. Go, open the door. It's Waris." (Her younger brother.)

"It's not ringing." I said.
I tried controlling my tears. Waris Mamoo was probably sitting miles away in his new house.
"If you don't get up to open it, I will go and open it myself." She had tried getting up but failed. Then she passed out.
In those days, I was having my first year exams in college. It wasn't very easy for me to control my emotions in school when I thought of her condition. My sisters would tell her how I was doing in my exams to keep her involved but in her last two days, she stopped recognising us.
On June 1, 1998 I had my last exam. I told my friends that I wouldn't be able to join them for the post-exam party because my mother was not well. I reached home and saw that she was being taken to the hospital in an ambulance. She threw up blood in the ambulance before she left our house forever.
It was the day of my last exam.
Her motherly instinct gave her the will power to continue till the last day because if she had gone earlier, my studies would have been disrupted. On the last day, she gave up. We went to the hospital but came back with her cold and lifeless. She was probably less than 40 when she passed away.
Today is Mother's Day, but June 1, 1998, the day my mother was still with us, will never come again.
As she departed, she left behind several questions for us. As a family we went through a bad phase in the years that followed but we stuck together. Our father left his job where he was working abroad and joined us to rebuild the family together.
Life has moved on since. Parathas are still being eaten but achaar now comes from the market in glass jars. Baingan is still not cooked at our home and cheque books have been replaced by ATM cards.
Things have indeed changed, but her memory remains forever etched in my brain.
I miss you with every fibre of my being – my Misil, a truly exemplary woman.
Read more by Sami here, or follow him on Twitter @SamiSaayer