Who tops Pakistan news on social media?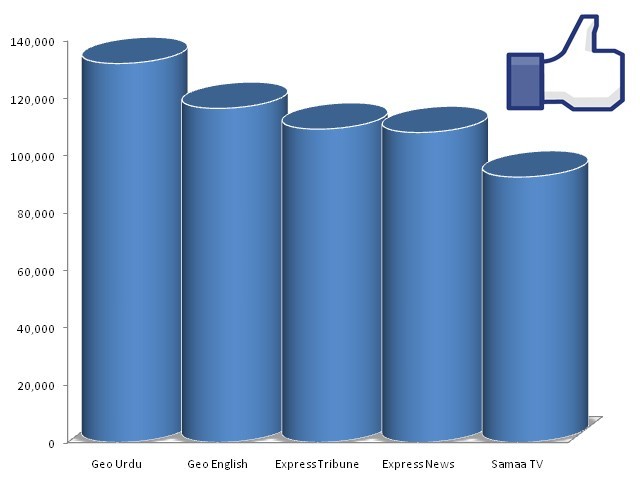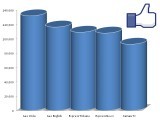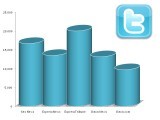 The need to be 'social' online is shaping up to be a new rat race for clicks, comments and user engagement among local news media outlets.
With an estimated 20 million Pakistanis online and over six million on Facebook, the ability to convert these numbers into tangible, easy-to-measure consumers of news content is, even at this early stage, a new measure of success.
Currently media groups are focused on growth and expansion of their user bases (via their sites or social media channels), experimenting with forms of content and content sharing mechanisms and for some, the first phases of trying to monetise their online presence – all of which is impacted by social media.
The local news media groups dominating on Facebook include the Jang Group, Express and Dawn, with Samaa close behind.
Note: All stats collected from Facebook and Twitter cited in the article refer to available data as of April 30, 2012.
Jang Group
The Jang group has established separate pages for each of their news brands, and segmented based on language as well. Their flagship brand Geo has separate English and Urdu pages.
The English page has 116,465 followers, while the Urdu page has 132,114 followers. Interestingly, the Geo English group's 'Talking about this' metric (a measure of how much conversation/stories are being generated by a page in a one week span) was lower (2,779) as compared to the Urdu page (6,192).
The Daily Jang is also on Facebook with 63,518 followers and 3,520 talking about this. The English daily, The News has 33,919 followers and 1,033 talking about this.
Geo News English also operates a Twitter account which has 16,678 followers. The account's Klout score (Klout is an online analytics company that measures an account's social influence by using Twitter data) is 52.
Express Media Group
The Express Media group has two of its brands, the flagship Express News and The Express Tribune on Facebook, though their Urdu daily newspaper, the Roznama Express is missing. The Express News page has 108,057 followers with 2,687 talking about this, while The Express Tribune page has 109,241 followers with 4,546 talking about this.
Express News' Twitter account has 13,509 followers with a Klout of 46, while The Express Tribune account has 20,016 followers with a Klout of 64.
Dawn Media Group
Dawn also has two separate Facebook pages; one for their website Dawn.com, and another for the Dawn News TV channel. TheDawn.com page has 58,842 followers with 894 talking about this, while the Dawn News page has 85,639 with 1,700 talking about this.
Dawn maintains two Twitter accounts for its news brands. The Dawn.com account has 9,725 followers with a Klout of 61, while the Dawn News account has 13,164 followers with a Klout of 42.
Other local News groups on social media
Samaa TV
Facebook likes: 92,524
Talking about this: 9,806
Twitter followers: 4,427
Klout: 41
Aaj TV
Facebook likes: 69,264
Talking about this: 2,131
Twitter followers: 4,043
Klout: 45
Dunya TV
Facebook likes: 30,685
Talking about this: 2,412
Twitter followers: 3,215
Klout:  28
Pakistan Today
Facebook likes: 17,609
Talking about this: 1,492
Twitter followers: 1,155
Klout: 36
The Nation
Facebook likes: 17,805
Talking about this: 801
Twitter followers: 3,493
Klout: 49
Business Recorder
Facebook likes: 5,559
Talking about this: 87
Twitter followers: 560
Klout: 28
Converse, converge, capitalise
In an online world increasingly dominated by dynamic communities such as those on Facebook and Twitter, media groups (and individual journalists) can now be part of the public conversation.
The plus side?
Instant feedback and measurable results.
The downside?
It's public, so media will be held accountable for its mistakes, and as in all good conversations, if the media group or individual is too slow in responding or too clunky and out of touch in their responses and content, they will die as quick a death.
They key to this new social media venture by local media groups will therefore be one of assimilation with their existing media models and existing business models i.e. monetisation of their online followers and fans.
In terms of assimilation, print and TV will both have to work on converging their online entities with their existing entities, ending the era of web operating as a separate unit. Newsrooms will have to be restructured to account for this change, and this will necessitate training staff to use and understand the value of online and weeding out those that do not and cannot change.
Additionally, programs and articles will have to rely on and refer to their online entities more (from the most basic "Join our Facebook page" to the more advanced "watch the behind the scenes edition of our show online").
Finally, editorial direction will almost necessarily be dictated to some extent by the internet, the one medium where the most two-way exchange of ideas between content creator and consumer occurs. It is likely that in a few years time, social media trends and responses to online articles and TV shows available on YouTube will shape traditional media content significantly.
Following just behind that will be the monetisation models, whether that is in the form of pay walls for specific online content or new forms of advertising and promotion, because eventually brands will want to leverage the news media's online clout.
Read more by Jahanzaib here or follow him on Twitter @jhaque
Loading ...