Three of everything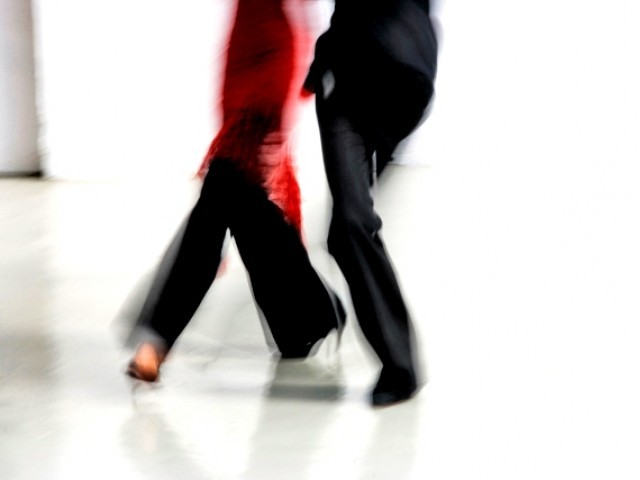 I knew it had been exactly three days since I had been lying under the covers exactly in the same position. I had gotten up exactly thrice to relieve myself. And for all these three days, I had woken once each day to eat three ounces of ice cream. Thrice I had checked the phone for the time.  And instead saw three missed calls from all three of my closest friends.
Thrice I had changed my position to perfect the same position. Legs tightly tucked under my chest, face buried in my favourite pillow, and my back arched upwards facing the ceiling.
Sounds came from too far away. Muffled and annoying, but much needed to distract me.
Repetitive.
Coming in threes.
The neighbour's dog barking. The phone ringing. The TV blaring.
In my sleep I saw three dreams. One of him. One of her. And one of all three of us together.
Somewhere between the threes, sleep would inundate me.
"Are you out of your mind?" someone said from faraway.
Drooling from my sleep, peering from inside the blanket, I giggle childishly and point my three fingers at her and say, "Three."
She questions much too dramatically, "What three?!"
"Three follows me around,", I inform her matter-of-factly.
"You're losing your mind!" she said disappointed with my response.
Dragging me out from my favourite position from the back of my shirt, much like a cat picks up a kitten, she makes me sit upright again, facing her.
"C…A…T… Cat… Three!" I repeat in an effort to convince her.
"I thought you were dead," she continues.
"Now you know I'm not," I say pointing at myself from head to toe.
I make my way back towards the bed. She looks at me for what seems like an eternity.
I break the silence. Not because I'm uncomfortable. Okay I am. Her expression is too still and sad.
"How did you even come in?" I say peering from under the cover now
"Your door was open…are you really that crazy? Someone could've easily come in stolen all your stuff and raped you." She screams and pauses for my effect.
Receives nothing.
I take a smug look around the apartment.
Smug about having absolutely nothing in the apartment besides the oldest Japanese TV in the world
Smug about living in a dump.
Smug about looking so horribly disgusting that no one would even be interested in frisking me.
"Or killed you!" she waits for a horrified response from me.
Still receives nothing.
"Did you knock thrice?" I question intrigued.
She looks at me again out of disgust. Screams louder than my ears can handle.
"Your life is a mess. This can't go on forever. I get it. You're sad, you're angry, you're feeling ugly."
"Wait…I don't feel ugly." I take a quick look and brush my hands against my sweatpants which to my surprise are now sticky and brown from chocolate ice cream.
And then admit, "Yeah…I kinda do,"
She kicks me with her high heeled shoe.
I look at her angrily and retort, "Kicking me when I'm down; is that your way of helping?"
"My point is… it's enough. It's so over. You don't deal with life the way you're doing. It's weak and pathetic. If you keep yourself holed in here forever, you'll die."
Die; three letters.
She waits for an expression
"Eaten by some dogs," she says waiting for my expression.
I ask, "Three dogs?"
She walks out of the house angrily. I hear her footsteps. One, two, three.
Now that she's gone again, my head buzzes with activity again. I get up and pace around the room in circles.
Morning, day and night. Three.
Red, blue, green. Three.
Past, present, future. Three.
Has God designed everything in threes?
Jesus, God and the Holy Spirit. Three.
Or is it plain chance?
Body, mind and soul. Three.
Why couldn't it be any other number?
I peer outside my window for threes.
There's a bee buzzing around.
Bee, three alphabets. Three.
Bees feed for nine days. That's three by three.
Reaching maturity by day 15. Five by three.
The bee's bodies divided into three parts. Three.
The eyes are made up of three thousand smaller eyes. Three.
It has three legs on each side. Three.
Each leg is further divided into three parts. Three.
It finally flies away.
Almost bored with the threes of its life.
I look back at the dingy dusty old apartment I now call home and think.
Archie, Betty and Veronica. Three.
His birthday. March 30, 1983. There's a three everywhere I go.
Her name. Sue. Three letters.
Three lines are needed to enclose any space. Three
Two straight lines can never form a figure.
You always need a third line.
So why did I ever think two would be enough?
Read more by Saba here.
Poetic License is The Express Tribune Blogs' creative writing section. Please send in your feedback and submissions to [email protected]