Sweet victory, sour grapes: Bangladesh's almost win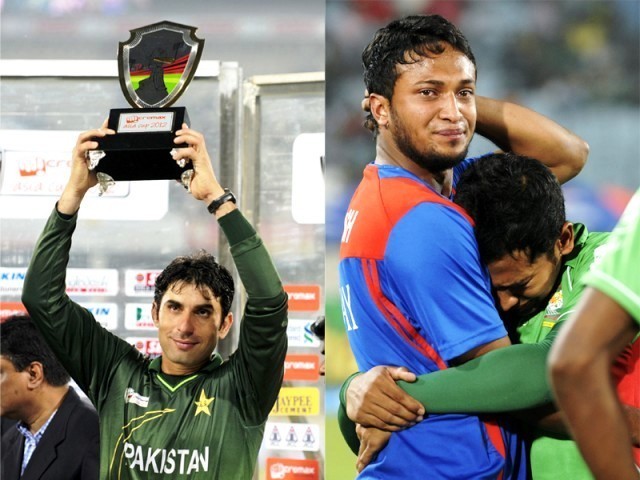 Although he is not my first Bangladeshi friend, Rohaan is definitely the first diehard Bangladeshi cricket fan I have ever met. He reminds me of how I used to be about cricket: crazy, emotional, passionate and frustrated. This March, the Bangladesh cricket team went all out to give their millions of fans, including Rohaan, a reason to cheer; something they have been longing for for a very long time.
At the Asia Cup 2012, the Bangladeshi team crossed all sorts of hurdles to make it to their first big final. On the final ball of a nerve bursting over, they were just two runs short of making their heroic performance a historic one. Pakistan, although more due to their luck than experience, was awarded the privilege to lift the cup, but it was Bangladesh who made an impression that day.
Bangladesh not only earned a new, highly-esteemed position in the Asian cricket club but also won the hearts of millions that day, including the ones which were supposed to be with their opponent team. Facebook and Twitter were both flooded with 'brotherly' (though some even insensitive) posts from their newly won-over Pakistani fans praising the Bangladeshi team and cricketers.
Television images of heartbroken players and teary-eyed fans set such an impression in the thousand-mile away West of Sher-e-Bangla stadium, that there were many wishing that Bangladesh had won instead of their own team. The sincere wishes from their ex-Western countrymen were responded to by matching gratitude and wishes by the grieving but proud Bangladeshis. Emotions were so high that nobody seemed to notice that the Bangladeshi premier didn't show enough courtesy to give the cup to the winning team and left after watching the whole match till the final moments.
However, this entire 'filmi-style' climax dropped to its anti-climax in minutes, if not in seconds, only after two days when the news broke that the Bangladesh Cricket Board (BCB) has decided to formally complain and request the ultimate result reversal. This put the emotion train in reverse gear immediately.
Enayet Hossain Siraj, chairman of the Bangladesh Cricket Board (BCB) cricket operations committee, told reporters on Saturday that Aizaz Cheema had deliberately blocked batsman Mahmudullah in the final over.
"We have seen video footage of the incident repeatedly. It is clear that Cheema blocked Mahmudullah deliberately. We will lodge a written appeal to the ACC very soon and will also give a copy to the International Cricket Council", said Siraj.
It started with polite and shocked messages like "cry baby", "sour grapes" and "Oh, come-on!" from the Pakistani side, to be countered with an equal force by the Bangladeshi cybericketers.
All of a sudden, things got pretty heated and the sportsman's spirit in exhibition for the last few days seemed to evaporate. The heart-gluing role of the game suddenly transformed into the root-cause for a cyber-war.
YouTube videos of the 'friendly' Afridi-Mashrafe collision and umpiring decisions of Younis and Umar's dismissals uploaded as rebuttals for the 'vicious' act of young and desperate Cheema. Things got even spicier when our Indian friends started contributing their two cents into an already riled up cyber war.
Watching this swinging emotional pendulum was when I felt something was very wrong. Firstly, sportsmanship is good, but while it may represent some deep emotions, wishing for the other team to win at the cost of your own team is definitely not the spirit the game is played with. Games don't work the way hearts do and to lift the trophy, you have to play the winning shot (or deliver the winning ball for that matter).
At the same time, it was shocking and saddening to see the response from some of the Pakistani internet-soldiers after the BCB decided to challenge the match result. No matter how much you had disliked the BCB's stand, the fact is that it is rightfully their choice. Some of us really need to understand that Bangladesh is not East Pakistan anymore.
I agree that one can question the logic of BCB's move since it has greatly marred, if not destroyed, the beauty of a great match. Bad umpiring decisions are an unfortunate but inevitable part of every game and Pakistan had more of this on that particular day. Even then, the proper place for deciding the fate of a game is in the playing field, not the wooden tables.
These post-Asia Cup events were a good insight of typical South Asian cricket-psyche. Every cricket match between Pakistan and Bangladesh doesn't need to be taken to 1971. We all know that 1971 was a black and most unfortunate chapter in our history with wounds that are still unhealed. I have no hesitation in saying that as a Pakistani, I carry a feeling of guilt whenever it comes to Bangladesh.
Having said that, the fact is, cricket is a game and like every other game, there is a winner and loser. So don't let politics destroy what this match has achieved. I hope that in later times when we look back at the 2012 Asia Cup final, we would do it by remembering the spirit shown by the two great cricketing teams and not these issues.
The only things I would like to see going beyond the boundaries of the cricket fields are sixes and fours. For settling 'historical scores', cricket grounds are definitely not the place.
As for myself, I have found a new cricket hero in Shakibul Hasan to cheer and to follow with my friend Rohaan.
Follow Ismail on Twitter @ismail_sultan