Kohli: The future of Indian batting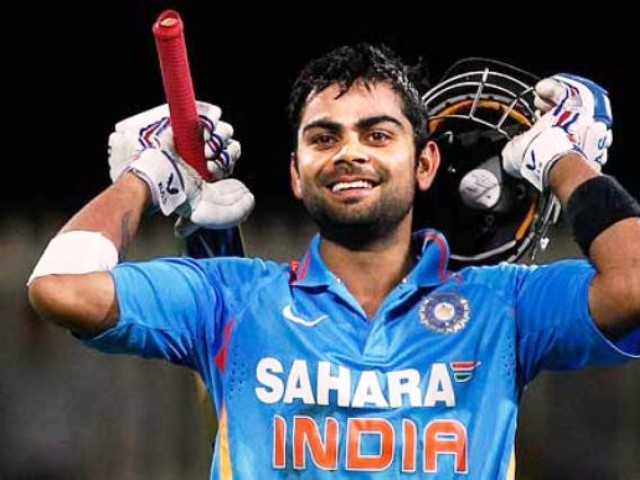 India has always produced exquisite batsmen from Viswanath to Vengsarkar, Azharuddin to Tendulkar; from this pedigree, another star has emerged that shines brighter than the other young guns around.
Virat Kohli has set himself apart from his contemporaries with such dominant performances that India's batting future seems to be secured. Actually, in the last few weeks we have had a glimpse of that future twice; once, when Kohli led India to a successful run chase in Australia, chasing 321 from 36 overs. And again yesterday, when India completed their highest, Kohli was at the forefront of the chase with a magnificent 183.
Yesterday's was one of the best ODI innings ever witnessed. It undermined the efforts of Hafeez and Jamshed, who both scored centuries putting up an opening stand of 224 in the process and kept India's hope in the tournament alive. To be fair, it was a batting wicket and Pakistani bowlers dished out a listless performance, but the bad balls still have to be put away; gaps have to be found and Kohli did that with surgical precision.
Kohli's Test credentials still need some proving, though he has already scored a century in Australia. His ODI credentials are as impeccable as they come. The player, who has been ear marked to take the mantle of Rahul Dravid, has racked up 11 centuries in the format at an average of over 50. He is one of the most dependable batsmen in ODIs at the moment, and his Test century against Australia has shown that he has the capacity to succeed in the longer version as well.
Virat should form the nucleus of India's batting future along with Rohit Sharma and Suresh Raina around which the rest of the batting line-up will revolve. Like most sub-continental batsmen, he is strong off his pads and easily maneuvers the ball anywhere between backward square leg and midwicket. His off side game is just as strong but he prefers the leg side.
His flexible style, where he can either take singles or unleash cracking boundaries and his cool and calculating demeanor makes him the ideal person to bat at number three.
This kid from Delhi has some spunk too, as is evident by the century celebration he has, with sprouts of abuses hurled in all directions, but he backs it up with numbers. His emergence in the Indian team has been swift and he was elevated to vice-captaincy in Virender Sehwag's absence. He may be the future Indian captain and has already captained the U-19 Indian team to a World Cup victory.
Pakistan has a batsman in the mould of Kohli as well.
Umar 'the chota' Akmal, is pure class and is as fearless as they come. He has all the shots in the book and can attack or take singles as required. Some maturity is lacking, but that will come with time as more responsibility is given to him.
Coming at number five or six is hardly the place for a stroke maker like Umar Akmal. He should be sent at number three so that he is able to control the game and dictate terms to the opposition as Kohli does.
The additional responsibility of wicket keeping when he doesn't even keep in domestic fixtures will do more harm to his confidence.  When Younus Khan and Misbah ul Haq call it a day, Akmal will be the one carrying the baton of Pakistan batsmanship. The sooner the Pakistan management gets this, the better.
India has already understood the importance of Kohli for their future – Pakistan would do well to follow suit with Akmal.
———————————————————————————————————————
Loading ...