Lawn is (literally) the latest rage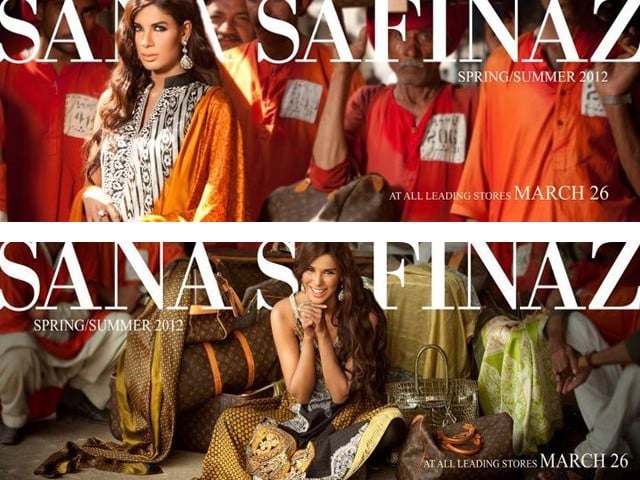 We love being angry don't we? As a nation, Pakistanis are most certainly good at one thing: criticizing. I'm not saying that is a bad thing. It's good to have an opinion, but we should know where to draw the line.
Being enraged about the violation of human rights by Maya Khan in her morning show was great. We showed her that civil society is sensible and very active.
However, when my Twitter and Facebook were flooded with angry comments about the latest Sana Safinaz advertising campaign last night, I had to see what the 'poor' brand had done to deserve this kind of thrashing.
Through the links provided in people's tweets, I found myself staring at a beautiful model dressed in vibrantly coloured lawn sporting the most regal expression. Behind her was the source of the controversy – a group of poor 'coolies' standing indistinctly behind her, carrying her Louis Vuitton luggage, their faces partly shrouded by the brand name in bold letters.
The picture of a "poverty stricken coolie carrying a Louis Vuitton bag" had more than 200 comments below it posted by angry fans who were "disgusted" by the advertisement.
Zarlasht Faisal wrote:
"A fashion shoot becomes a political/social statement when you construct the visual narrative out of context. The context of the communication was that SS prints make you look good. But when you juxtapose it with a line up of coolies who symbolize daily back breaking labor with low wages it becomes a political statement. And that's why I feel so many people took offense to it. "
Rabia Salman wrote:
"Why couldn't you come up with a better campaign than this? It just glorifies the gap between rich and poor. Look at the poor man. His whole life's savings is worth less than that bag."
Abira Ashfaq:
"This is offensive to the plight of the poor. The men in the picture make barely minimum wage which is Rs. 7500 a month. How about a suit? How much did it cost? How many crores were your profits last year? Calls for a boycott."
But isn't the expression of the coolie shown in the picture exactly the same expression as your maid has when you ask her to do your laundry or iron your clothes.
Why, then, the rage?
Although Sana Safinaz might not have chosen the most politically correct marketing campaign, it is a realistic one. This campaign highlights a reality that exists in our society. It acts as a mirror to those privileged enough to have access to social media websites.
The variety of socio-economic classes that exist in our country are usually not on our mind when we're spending exorbitant amounts on designer labels.
We don't want to be reminded of those unfortunate people who can't even afford to feed their children when we're trying to think up new ways to show our affluence. No. These discussions are strictly prohibited outside cafés and internet forums. That's where we think about social issues. How dare Sana Safinaz try and shove the bitter truth when all we want to do is ogle at slender models and chic dresses?
To the people comparing this campaign to Vogue India shoot back in 2008, please go through both and try to analyze the two.
If someone thinks that boycotting Sana Safinaz will make you a human rights activist, I'm sorry to break it to you but it won't. For that, you actually need to do something other than changing lawn brands.
I'm sure that 'phool wala' kid you hand the five rupees coin to at the traffic signal does not care what lawn print you are wearing.
Read more by Sara here.
Loading ...