Banning concerts is not a solution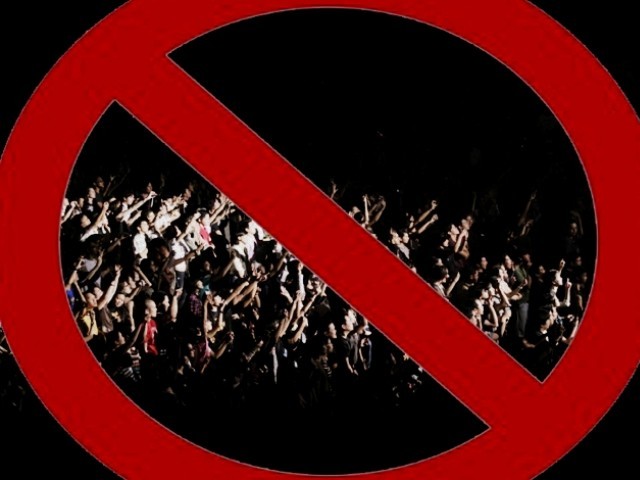 Tracing back the history of Pakistani pop music is tricky. Wikipedia describes Runa Laila as a veteran among pop sensations; Nazia Hassan and Zohaib Hassan are ranked after her. 
Today, Pakistani pop music is one of the most popular genres in South Asia and also with the South Asian diaspora around the world.This fact has been accepted with much grace and enthusiasm by the majority, but there are always hindrances posed by certain hard-liner groups, changing governments and Islamic fundamentalists, who frequently have issues with Pakistan's vibrant and thriving mainstream and underground music factory.
Following Ziaul Haq's military coup, Pakistan saw an unfortunate pushback against the music industry. Limitations were imposed on music distribution, music videos were banned, and whereas we see hundreds of music channels and blogs today, at that time, PTV was your source for all things music (as approved by the government at the time).
However, if there is one thing Pakistan deserves credit for, it is its resilient nature. The ban is a solid example of Pakistani musicians living on, with the likes of Nazia and Zohaib Hassan reaching the top spot on European music charts. The fact that Pakistan's talent had to (and continues to) seek solace and recognition and respect through foreign avenues is a disheartening state of affairs.
A few days back, the Punjab Assembly's resolution banning concerts, proposed and passed on the same day, felt like a reversion to a low point of Pakistan's music industry. I was in the studio all weekend in Karachi and received a couple of messages which didn't spell out the complexity but simply read that musical concerts had been banned in the province of Punjab.
Music for us is not only a job, the way we earn our bread, but also a means of hope, survival, optimism and growth – personally, professionally, and even collectively, as a nation.
Countless talented colleagues perform at the very venues targeted by this resolution.
This December, I spent seven evenings at such places. Sure, the artists deserve recognition, for their concert and for an appearance but really, it's the people who turn up to these things that deserve the real applause. I have seen people attending, all smiles, all cheer, despite the threat of dengue, despite the risk of a blast, and despite the overwhelming heat. Perhaps, we should step back and appreciate this more often.
We speak of the threat of fundamentalism like it's a distant spectre on the horizon. Sometimes we lull ourselves in to a false sense of security:
"Oh, it will be okay. It's not close enough to me, I am not affected."
However, that's not the case. The discussion which took place in the Punjab Assembly earlier this month is testament to the fact that it's not necessarily just the danger of fundamentalism that threatens to do away with Pakistan's arts and culture.
It would be unfair to make any sort of criticism without pointing out the alleged root cause behind the resolution. Three lives were lost at a recent concert at a similar venue and this is an important and exceptionally unfortunate impetus for ramping up security and for pushing for more public and media accountability. These are things I felt the night I heard of the incident and I continue to feel today, but I refuse to believe that such a resolution will serve to protect the people of our country. To me, it appears to directly target the music industry which includes countless artists across Pakistan.
The fact that there are urgent matters which require immediate attention with regards to concerts and venues is undeniable, but proposing a law which seeks to burn the entire institution to the ground is not the answer.
Loading ...