Special Assistant to the Prime Minister on Overseas Pakistanis and Human Resource Development Zulfi Bukhari is a man on an unstoppable mission when it comes to fighting for Pakistanis living overseas, and the fight is fuelled by his own personal struggle. I was able to recently catch up with Bukhari for an exclusive interview at his residence in Islamabad, where he shared that his nationality was still questioned and said, "People still question whether I'm even Pakistani or not. I've been called a ghaddar, an MI Agent, Mossad and what not. My first piece of advice for overseas Pakistanis who want to serve ...
Read Full Post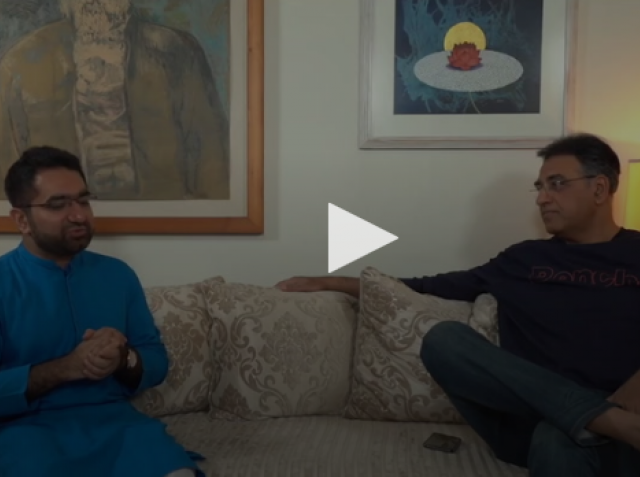 Interrupting the festivities of his son's wedding, I caught up with the remarkably candid Minister Asad Umar for an interview at his residence in Karachi this weekend. We talked about everything from his substantive reform goals as the Federal Minister for Planning and Development to who's more likely to become a prime minister first, Bilawal Bhutto or Maryam Nawaz.  "The last time you interviewed me, I was fired after four days," Umar quipped, as we began the interview. "If it happens this time, it'll fall on December 25th, which will be really sad." Since wedding festivities were in full swing around ...
Read Full Post
On an unusually warm Sunday afternoon for late September, the lobby of the Pakistan International Airline (PIA) owned Roosevelt Hotel in midtown Manhattan is abuzz with Pakistani diplomats and American dignitaries; including Senator Lindsey Graham and Zalmay Khalilzad, the architect of the American-Taliban peace deal. Prime Minister Imran Khan and Foreign Minister Shah Mahmood Qureshi are also in New York City for a packed week of diplomacy, with a particular focus on mission Kashmir, in the build up to the United Nations General Assembly (UNGA) meetings. On the eighth floor of the Roosevelt, I sat down for an exclusive interview with ...
Read Full Post
On a bright Sunday morning, right after Pakistan managed to raise the Kashmir issue at a United Nations Security Council (UNSC) meeting – despite India throwing everything and the kitchen sink to stop it – we sat down for a conversation with UN Ambassador Dr Maleeha Lodhi at her official residence on the Upper East Side in Manhattan. We unpacked how Pakistan managed to orchestrate the UNSC meeting after five decades, what's next for Pakistan at the UN, and what a typical day in her life looks like during these extraordinary times. "The fact that the UNSC meeting took place showed that ...
Read Full Post
Dr Arif Alvi is an acquired taste. He isn't your typical flash in the pan Pakistani politician who rides his 1,000-watt charisma to answer difficult questions. Instead, Alvi is that rare Pakistani leader whose substance overwhelms his style. He quotes ideas from Plato, Maulana Maududi, Karl Marx and Thomas Piketty with equal ease. Even if you're a resident of his former constituency in Karachi's Defence area, you might not know that he was shot twice while protesting against Ayub Khan's military rule. I got the opportunity to interview the president over Eid at the Governor's House in Karachi. We had ...
Read Full Post
Right after his meetings with the International Monetary Fund (IMF) in Washington, I had the opportunity to sit down for tea with Finance Minister Asad Umar at the Pakistani consulate in New York City. We talked about his negotiations with the IMF, unpacked his outlook on the Pakistani economy as well as the personal toll this job is taking on him. The second thing I noticed about Umar when he entered the room was how tall he actually is in person. The first thing I noticed was how visibly exhausted he looks. By nature, he is an irrepressibly optimistic ...
Read Full Post
Preparing to become a Pakistani groom is a lot like watching Shahid Afridi bat. The thrill and the excitement that comes naturally with the process are unparalleled. But the adrenalin rush also keeps you on the edge of your seat; you genuinely have no idea what's going to happen next. Weddings are a big deal around the world but in Pakistan, they're an even bigger deal and a bit of a rollercoaster ride, especially for the bride and groom. Incidentally, while Pakistani brides may be groomed (no pun intended) for this rollercoaster ride all their lives, the grooms are kind of expected ...
Read Full Post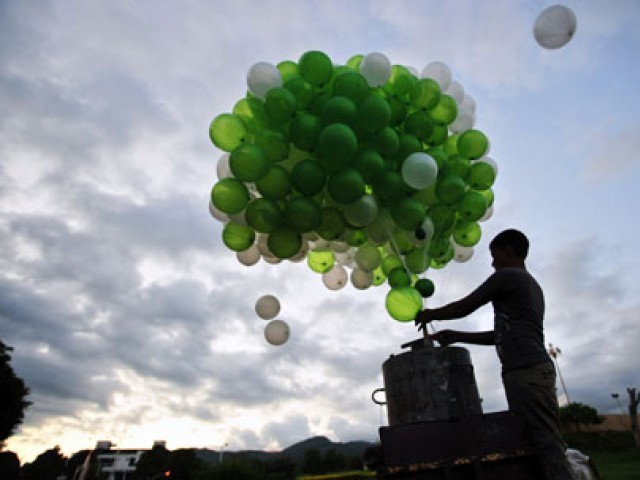 Is Pakistan the most exciting place to live in the 21st century? On the eve of the 72nd anniversary of the Pakistan Resolution, the evidence appears to be stacked overwhelmingly in Pakistan's favour. Consider this: the Pakistani people are frontline warriors in the greatest ideological battles of the 21st century. Whether it's the war against religious extremism or the definitive showdown between democracy and entrenched dictatorship, the Pakistani people are playing an outsize role in shaping not just their own future, but also a new, post 9/11 world order. If you want front row seats to witness 21st century history in the making, Pakistan ...
Read Full Post
The Arab Spring has captured the imagination of young people around the world with a powerful message about people taking control of their own destiny. In Pakistan, the spirit of the Arab Spring is playing out to a different tune. Instead of adopting "overthrow of the system" as their battle cry ala the Arab Spring, a visible and growing number of young, educated professionals in Pakistan are channeling their energies to incrementally improve the system by engaging with the current set up. Young Pakistanis, including many who have traveled to the West to get educated, are returning home to make active contributions ...
Read Full Post
Participating in the PTI jalsa on Sunday was a transformational experience for me. Originally, I did not plan to attend the rally because I didn't agree with everything Imran Khan has to say, and felt his policy platform was too vague. Plus, there was a small chance that a bomb might go off, or something else would go wrong – it's Karachi after all. The tipping point came when Imran Khan positioned this rally as an opportunity to usher a new era of peaceful politics in Karachi. Sitting with friends the night before the rally, we made an impulse decision to attend. "You'll tell your grandchildren that you were ...
Read Full Post