Friday Dec 14, 2012; on a night unusually cold for Karachi's standards, more than 50 thousand people decided to join a sit-in protest against the ongoing Shia genocide in Pakistan. I was one of them. After being stuck in several traffic jams I eventually reached MA Jinnah road (named after the country's founding father whose own personal religious affiliation is ironically debated time after time). The crowd grew from a few hundred to thousands in a matter of hours. Later that night, the cosmopolitan experienced an unannounced strike but that didn't stop the protesters from growing in numbers. What ...
Read Full Post
When the excited lot at Times Square was celebrating the death of Osama bin Laden, we in Pakistan were in a state of absolute shock and bewilderment. Like an uninvited guest at a party who's been asked to say a few words on stage, we had no clue how to react. Why we didn't celebrate A large fraction in the West expected us to celebrate the death of Bin Laden like New Yorkers. A friend in India tweeted that the moderate Pakistanis should come out of their houses to show their contentment on the death of the Saudi businessman turned al ...
Read Full Post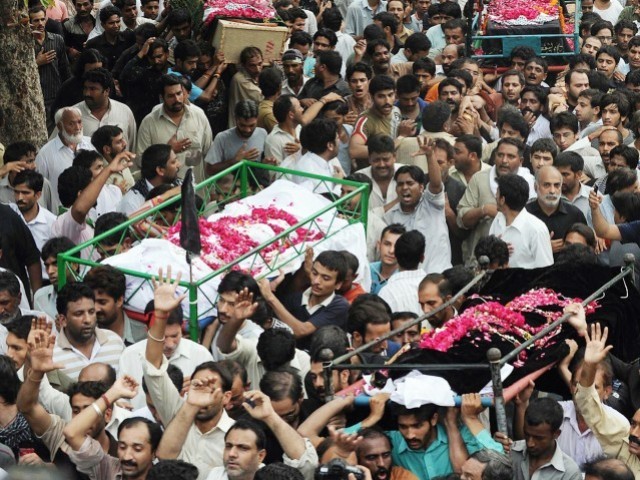 Ever heard of Murphy's Law of Terrorism? It says: "If a suicide attack can take place, it will." If the province is Punjab and the interior minister is Rana Sanaullah, the probability of a terror attack maximizes. But it would be unfair to other law enforcers (intelligence agencies in particular) if the entire credit of incompetence, criminal negligence and corruption goes to the PML-N minister. After all he's not the only one who allowed sectarian violence to prosper and flourish under the protected umbrella of law enforcement. Pakistani courts, military agencies, police and rangers made sure not to catch any terrorist ...
Read Full Post
If you are a regular follower of the Pakistani blogosphere and mainstream media, chances are that you have come across these three stories – the fake degree scandal, Fox News declaring the countryPornistan and a heartbreaking rape incident of a nursing student. It is amazing how the stories that appear completely different are in one way correlated. Starting off with the Fox News story, which claims that Pakistan tops Google's chart when it comes to 'Sexy Searches' (Though personally, I find nothing sexy about horse sex). Frankly, Fox News is infamous for its special love for Pakistan and the Muslim world ...
Read Full Post
The news that Facebook co-founder and CEO Mark Zuckerberg may face a death penalty by the Lahore High Court (LHC) didn't come as a surprise to anyone who has been following the facebook fiasco in Pakistan. Keeping in view the recent few verdicts by the LHC which ironically defied some basic laws of physics, geography and common sense, there is a major possibility that the young entrepreneur from New York is sentenced to a death penalty under Criminal Code 295-C on blasphemy laws. Now I am not here to discuss the global pitfall of such a verdict in the ...
Read Full Post