The clothes that women wear in Pakistan have never been a matter of sartorial preferences or aesthetics alone. The length of the kameez, to the donning of the hijab itself has always been at the heart of a debate that encompasses matters as diverse as gender politics and women's rights to female visibility and reclamation of public spaces. Even in Pakistani dramas, the morally upright woman is always shown to be dressed 'modestly' while the one who is 'morally loose' will be shown wearing jeans or a top. Therefore, on the face of it, the Haripur district's education office's decision ...
Read Full Post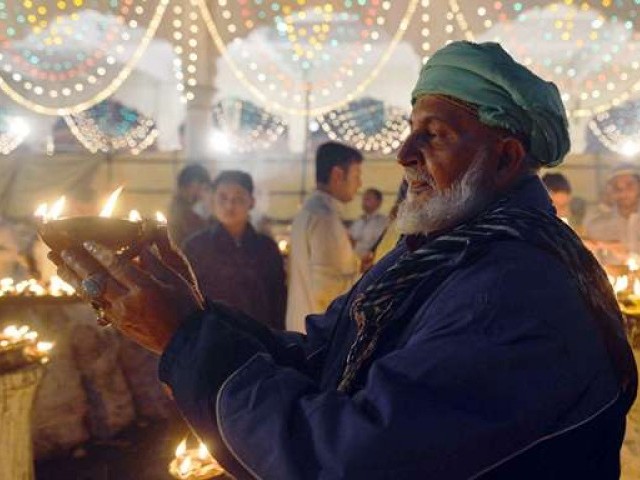 Unlike most dramatic beginnings, this one was a humble take-off. There were no signs that I was about to undertake the journey of my life. No early-morning itches, no accidents, no drums rolling and no divine calls. It was as if God wanted to take me by surprise. Mama had to visit Sehwan for some office work and I tagged along, simply for the sake of obliging her and out of my own curiosity. After a road trip of three hours, we finally reached our destination. At first, I felt no magic in the domes, the mausoleum or the city ...
Read Full Post
The chance to watch the most awaited play in the theatrical history of Karachi came to me by the sheer luck of getting some free passes, as Rs1500 for a ticket seemed too steep a price. I was greeted by an excited crowd that had gathered even before the gates opened. There was palpable excitement in the air. Everyone was hoping for a worthy show that could make them relive their old memories. Being a die-hard fan of Aangan Terrha and having almost rote-learned the entire show – thanks to the presence of old DVDs in the house – I was sceptical about whether my expectations ...
Read Full Post
I was hooked on to him ever since I read his profile. The 'about me' section proclaimed,"I am a male feminist." That sentence blew my mind. This was the guy I had been looking for high and low, and had given up all hope of finding. It was high time I found someone. All my friends had successfully found (read: lured) wealthy, eligible and (kind of) cute bachelors. I felt like an outcast in their discussions which went on sometime like this: "What shade of lipstick should I wear with my new black suit?" "You know what? My guy gave me this imported ...
Read Full Post