As children, we found ways to amuse ourselves in Muharram. On the majlis farsh we planted ourselves besides the most interesting of the dowagers and matriarchs listening somberly to the majlis. Most dressed in black shalwar kameezes, some wore black chiffon saris whose blouses had grown smaller in such subtle gradations (half an inch every Muharram) over the years that, though their flesh now spilled out of them, they could not perceive the difference in the fitting. From those blouses, their flesh cascaded in soft, maternal folds and it was its shaking and quivering when they wept during the ...
Read Full Post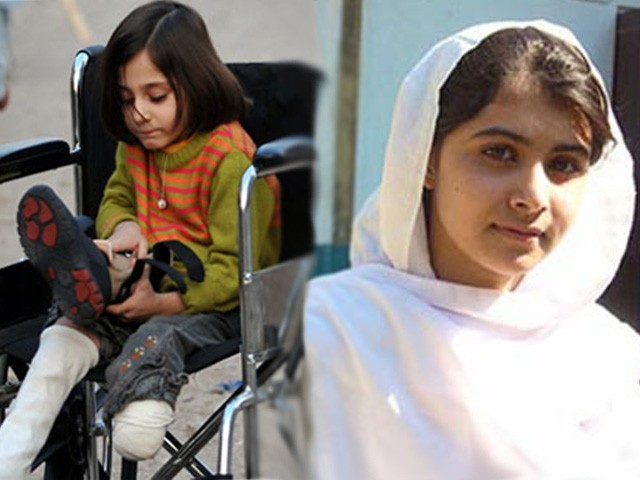 "Am I less precious than Malala?" says the caption on the photo. "Am I less patriotic? Then why don't you speak out for me?" The photo shows a rosy-cheeked girl with silky brown hair and a maimed leg, who has been purportedly injured in a drone attack. This is Laiba, the poster girl of the Taliban-sympathisers, propped up in response to the outpouring of grief and sympathy for Malala, who by this time has been consecrated by liberals as a heroine who stood up to the Taliban, the epitome of all hope for girls' education in Pakistan. The point that Laiba ...
Read Full Post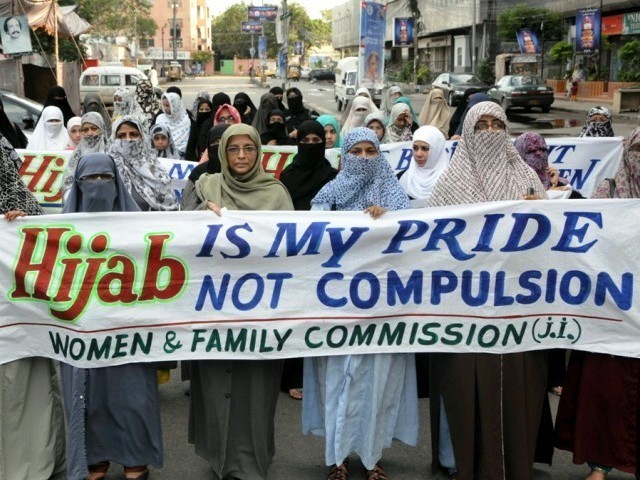 Scrounge for your scarf; dig out that dupatta – its World Hijab Day! You may have heard of 'World Health Day', and certainly of 'World Population Day' and perhaps even of 'World Literacy Day'. But before today you may not have heard of 'World Hijab Day'. Unlike 'Earth Day' or 'World Cancer Day', though, 'World Hijab Day', has not, as you might initially think, been decreed by the UN, the organisation which earmarks certain days for international observances, designed to further its goals of world peace and social progress. No, World Hijab Day has in fact been declared by Pakistan's biggest religious political ...
Read Full Post
Nearly 150 people died in the Karsaz blasts four years ago; many more were injured. But yesterday, the fourth anniversary of the blasts, the biggest concern most people in Karachi had was whether Karsaz will be blocked? Will the roads be jammed? [[http://www.youtube.com/watch?&v=gKwaf1xAZI0]] Like countless other incidents, Karsaz too is now just a distant memory, another episode in the violent political history of our nation. Still, it's kind of hard to ignore the half page ads in the papers, exhorting us to remember "The Day of the Martyrs" – which is the best that the communications machinery of the Government of ...
Read Full Post
"It shouldn't rain in Karachi," says my driver defeatedly, after four hours of standing on the Baloch Bridge. We are riddled with doubts: should we have taken the Gora Qabristan route? Should we turn onto Shahra-e-Faisal instead of going straight onto Shaheed-e-Millat? The fact is, whichever way we turn, we were stuck. I roll down the window of my steaming Mehran – thankfully, I have a book – and read, first in the fading light of dusk and then in the beam of headlights from stationary cars, while the drizzle lightly soaks me. By the time I'm halfway through – my book, ...
Read Full Post
If I were a murderer I'd love jirgas. In fact, I'd be thrilled at their judgments, at their twisted logic. After all, for any wrongdoing I committed, the retribution would fall not on me but on the women around me. On May 6, 2011, a jirga in Sindh handed over 12 girls to the victim party to settle a murder case. The youngest of them was five-years-old. How does that even work I'd like to know.  Kafka created a surreal world in which punishment for a crime was disproportionate to the offence. But we live in a reality where ...
Read Full Post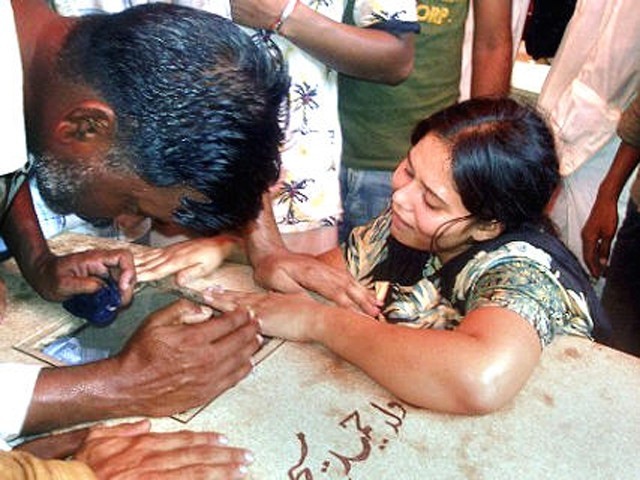 While the reopening of the Bhutto case has the courts frothing and fulminating and the newspaper headlines screaming, perhaps one should give thought to another case, in which, little progress has been made in bringing justice. I speak of the Gojra case of 2009, in which hundreds of people were initially charged with murder and violence in a Christian neighbourhood in the town situated in Toba Tek Singh district. Eight Christians, including four women and a child, were burnt alive when attackers set 40 houses and a church ablaze following allegations that members of a local Christian family had desecrated ...
Read Full Post
When I was at university, the one person I would have difficulty saying 'hi' to on campus was a junior who kept her face hidden by a thick black veil. As is the case with cursory greetings in the passing, so much is gauged with facial expressions that I could never make out her response. Then, in my last year, a close friend made the decision to start wearing the niqab and subsequently almost completely dropped off the social radar. I felt her decision was extreme and unnecessary and I felt a lot of hostility towards the piece of ...
Read Full Post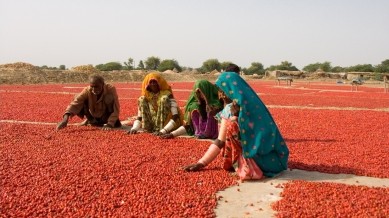 Gender differences in occupational employment are a reality and in Pakistan, a very small number of women are employed in the formal sector. But in the informal sector, the economic contribution of women is huge. Development economics teaches us that women subsidise the economic activities of men. In their role as caregivers and homemakers, they are performing work that makes it easier for men to perform theirs, but there is an important distinction. Men are by and large the breadwinners, the ones with access to financial resources while women are financially dependent – their work leads to no financial remuneration ...
Read Full Post