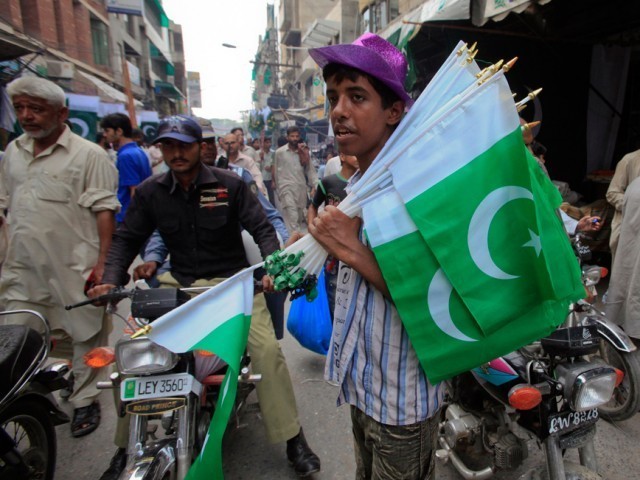 Walking or driving around the streets of my country, I can never give words to the mix of feelings and emotions that I experience. Is it the sense of belonging, which I never feel anywhere else in the world? Is it patriotism which brings tears to my eyes whenever I see a little boy running around the streets with a giant Pakistan flag? Driving by the Mazar-e-Quaid waving flags. Photo: Muhammad Noman "Why do you like Pakistan so much?" "Why would you want to live here when everyone here wants to leave?" "What is so good about Pakistan?" These are ...
Read Full Post
My sister and I, like a lot of other siblings, have a love-hate relationship. We can be the best of friends at times but can also turn into the worst of enemies. We still don't hug or even shake hands when we see each other after a long time. Yet, the smiles on our faces are enough for both of us to understand how much we've missed each other. She is probably the most energetic and witty person I've known. She truly is the life and soul of our house. I still remember when she went off to medical school ...
Read Full Post
Weddings are a big deal in Pakistan. Whether the person getting married is a close relative or a distant acquaintance, one witnesses drama that comes with this gloried event. I personally love a good wedding. Here are just a few things that I have experienced at the weddings that I've had the chance to attend: Wedding aunties: At every wedding, you will run in to at least one pestering aunty who will want to know every little detail of your life. Therefore, it is usually the girls who dread going to weddings, as they are typically at the receiving end of ...
Read Full Post
I was not too surprised when I saw the elderly man on the side of the Islamabad highway. Beggars are a common sight on the road and drivers are used to ignoring them. But as I waited at the traffic signal, I noticed the man stepping onto the road. The light had just turned red and the timer had started. He only had a few seconds to get someone's attention. Watching him from the car, I assumed he was asking for money, but his movements suggested otherwise. There was no weariness, no weakness in his movements, which is usually associated ...
Read Full Post
When I returned to Islamabad after five years, I realised how much Pakistan had changed. There were security checks at every entry and exit point of the city and uniformed men looked suspiciously at every car that passed them. "Good job," I thought after seeing them and assumed they were doing their job properly. But then I noticed that most of the drivers they pulled over had a few similar qualities: they were all  men with long beards wearing shalwar kameez. I understand that terrorists are usually in this type of attire but does this give guards the right to stop ...
Read Full Post
I've lived in the UK most of my life and visited Pakistan last summer after five years. I was simply overwhelmed when I arrived at the airport and was smiling at everyone and everything I saw. Unfortunately, my feelings of  joy came to an end soon enough. Fist stop: baggage claim I waited at the baggage claim for the last piece of my luggage -a lawnmower that that my grandfather had requested – for half an hour. Finally, I saw the big orange box. It was sitting on a luggage trolley along with another suitcase. Standing next to it was a tall, grey-haired ...
Read Full Post