As I write this blog, I sit in my living room miles away from Pakistan. I miss my loved ones; my parents, my siblings and acquaintances a lot. But thank God, despite being away from them, I am in constant touch with them and they know about my life and the freedom I have. But as I write all this, I think of those unfortunate people whose loved ones are lost – or rather haver been snatched away. I thank God and feel blessed. Since the time I wrote my last piece on missing persons, which was nearly three months ago,  I ...
Read Full Post
As our car and truck approached Thatta, one question kept echoing in my mind. Do we really deserve to see our country in such an agony? The answer that repeatedly kept cropping up in my head was "yes". Both my heart and my mind had come to this conclusion. Regardless of the pain, I wasn't able to simply ignore the answer. My friends and I were taking relief goods to Thatta to distribute amongst the flood-stricken IDP's who had settled down in Thatta. Those who we could not help After crossing Dhabeji, I witnessed the flood ravaged people camping on both ...
Read Full Post
Sometime ago reports were published in the Washington Post and The New York Times, and even in the Pakistani media, which said that CIA is using new, smaller missiles and advanced surveillance techniques to minimise civilian casualties in its targeted killings of suspected insurgents in Pakistan's tribal areas. According to reports, US officials do acknowledge a number of civilian casualties caused by the CIA's drone strikes. Although there is persistent debate on the exact number of such casualties, one thing is indisputable – the militants targeted by drones are said to be "suspected." How does one define a "suspected" militant? According to me a ...
Read Full Post
Raza Haider, an MQM leader and member of the Sindh Assembly, and his guard were shot dead at a mosque in Nazimabad in Karachi. It was a sad event. Target killings are unwarranted and uncalled for. The culprits of this cold-blooded murder and all such murders should be caught immediately and punished severely. But another sad event followed the murder. As soon as news of the incident broke all shops were closed. Members of the self-proclaimed 'middle-class' and 'most educated' political party of Pakistan were allegedly seen threatening shopkeepers. Some shopkeepers were even physically attacked by workers. A Pakhtun cobbler's small ...
Read Full Post
A popular Urdu proverb goes 'mulla ki dor masjid tak' meaning some people are only concerned with what affects them directly. Pakistan complies with this proverb when it comes to provincialism. There are different social, cultural and ethnic groups in Pakistan. These ethnic groups aren't led by a tribal chieftain or an elder. In the 21st century the urbanity of ethnically associated people has evolved. The geriatric level of living has been abandoned. People don't believe in tribal chieftains leading their ethnic group but a political leader instead. There are various ethnic groups in Pakistan, consequently there are various political ...
Read Full Post
Whenever I hear the words missing persons I think of Amina Janjua and feel sad. She is the wife of Masood Ahmed Janjua, one of many missing person and chairperson of Defence of Human Rights Pakistan (DHRPK) which has been interminably and doggedly struggling for the cause of missing persons in Pakistan. Sometimes her hard struggle has been alone and sometimes she has had the support of the masses. The missing persons have allegedly been nabbed by Pakistani intelligence agencies in collaboration with the United States of America which is  interestingly our top ally in the war against terrorism. The issue of missing persons is almost ...
Read Full Post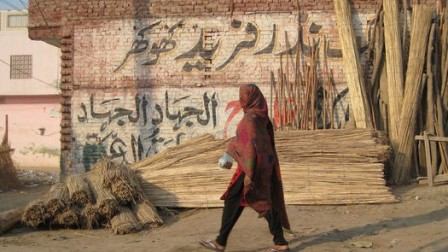 Graffiti that adorns the walls on the streets of Pakistan has multiple reasons behind it and is a host to multiple opinions too. For some people, it is a means of livelihood, for others it is an outlet for their thoughts. At the same time, it is used for political motives such as political marketing. Graffiti, (which is also in a way another kind of vandalism), is often used by low-level companies as a no-loss mode of marketing. When I approached different people regarding this issue, I received a number of different responses. One activist of a major political party ...
Read Full Post
The heavy cultivation of opium in Afghanistan is known to all of us. The pertinent question then is: why has Nato been unable to control this opium cultivation in the nine years of its occupation? According to a recent article on TIME titled "Is NATO to Blame for Russia's Afghan Heroin Problem?" Russia has lambasted the US and NATO for not doing more to stop little baggies of heroin from getting into the hands of Russia's youth. Russia further alleged that "NATO has fueled drug production by refusing to destroy Afghan poppy fields, which it stopped doing last year in the ...
Read Full Post
Conspiracy theories in current times are adjusting to our youth. Have you ever wondered about the reasons that make conspiracy theories easily impact the minds of people? There are quite a number of reasons, the foremost being that many of us love fiction and mysteries, and another being a simple lack of education. But in Pakistan, perhaps the most important is the trust deficit between the people and the respective governmental institutions or the whole government machinery. Conspiracy theories proliferating in society or a country reflect a bilateral connection between the respective government and its people – both hermetically connected ...
Read Full Post