Let me tell you a tale, a story filled with reality. Kashmir destroyed by tyrants and their cruelty. Where women are assaulted and children are not spared. The rulers are the murderers and the 'security' men feared. Pellets to blind, tear gas shells to choke you. Jails to languish, bullets to kill you. They've empty hearts, their blood is cold. Some among us are theirs, their faith is sold. The children of ours, tormented and in trauma. Then they'll try to fox you and do all the drama. A little boy, they inserted needles into his eyes. Slapped, tortured him and then came up with lies. India, the most tolerant is what they call themselves. But tales ...
Read Full Post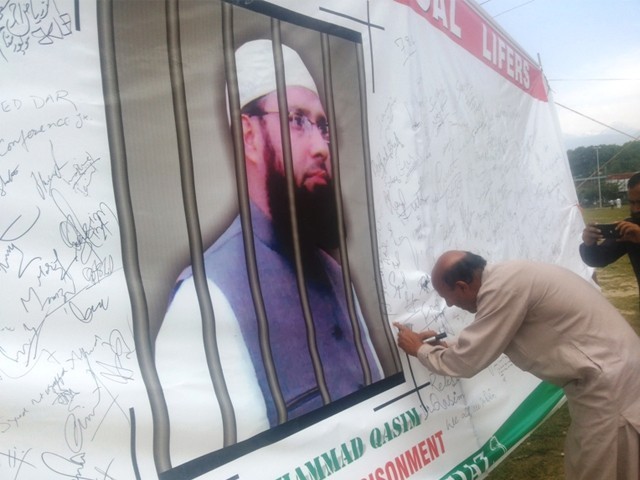 A few days ago, I celebrated my 19th birthday without my parents. No, I am not an orphan. But the conflict in Indian-occupied Kashmir (IoK) has ensured I live like one.  I was born in Srinagar. My father, Dr Ashiq Hussain Faktoo, spent nine years in prison before I was born. He was briefly released and then arrested within months of my birth. It has now been 19 years that I have not seen him under the open sky. He is one of Kashmir's longest-serving political prisoners, having languished in jail for 25 years now. Sometimes I want to tear the prison down and carry ...
Read Full Post
I could hear the noise saying the moon was sighted, Joy all around, the festival was tomorrow but I wasn't excited. I stared at the moon, they all found it jubilant and bright, It was quiet, too dark and for me, it felt like any other night. Was it something I did or was it something I said? That I don't know of happiness with you now, it all feels so gloomy and dead. I imagine celebrating with you, I picture how it could be, And someday when we meet, I'll ask you, mother – did you ever think of me? Should I learn to live these times completely on my ...
Read Full Post