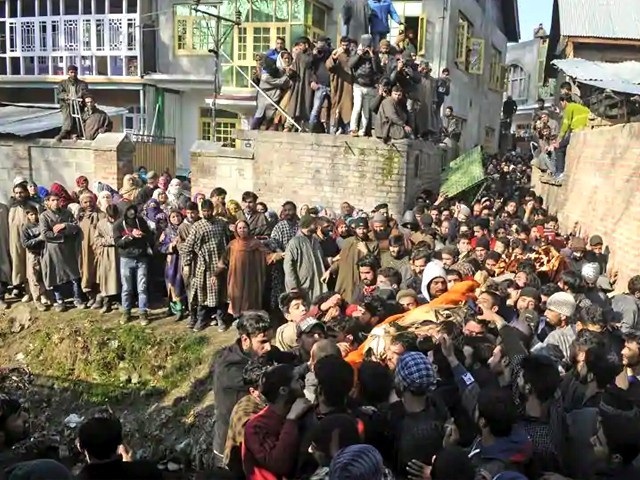 December 15th was just another Saturday, but nobody knew then that it would be a bloody one. News came that an encounter broke out between forces and militants in the Sirnoo area of Indian-occupied Kashmir's (IoK) Pulwama district. Then, at around noon, news emerged that one civilian had been killed by the forces. The toll only stopped at seven as the day passed. At the end of day, seven civilians had been killed and around 250 were injured with pellets and bullets. That night people slept in anger. As news of a massacre arrives from home in Kashmir, I realise it's ...
Read Full Post
On Thursday evening, barely a day before Eidul Fitr, senior and most respected journalist Shujaat Bukhari was killed just outside his office in Press Enclave, Srinagar. Bukhari was the editor-in-chief of English daily Rising Kashmir published from Srinagar I was not far away from where the incident occurred. I was in the newsroom, where I along with rest of the staff was working on Friday's edition of our newspaper when we heard gunshots. Panic gripped us, but one of my colleagues mentioned that it couldn't have been gunshots, Eid was nearing, and maybe kids were out playing with firecrackers. Thinking ...
Read Full Post
A week ago, clashes erupted between Indian security forces and protestors just outside the Jamia Masjid Srinagar. What followed was scary, but was not happening for the first time. A police vehicle ran over two young boys; one was seriously injured and the other one, Qaiser Amin Bhat, died of his injuries at the Sher-e-Kashmir Institute of Medical Sciences (SKIMS) later on the same day. The incident was not something new; one such incident had already taken place in Srinagar earlier in the month, when a police vehicle ran over a youngster, Adil Ahmad Yadoo, killing him on the spot. Earlier, ...
Read Full Post
TOPICS
My scars were still fresh. One could see blood oozing out of my fresh and painful wounds. These wounds are what my age-old enemy bestowed me with. My enemy has got numerous weapons, some pierced through me, while some made numerous holes in my body. Holes may fade away, injuries may heal. But what was done to me, to my inner world, will never fade away. It will never heal. My wounds were still afresh; they smelled like agony. I was withering with pain while my family members decided to hold a grand party and enthral their guests with entertainment, entertainment and entertainment. ...
Read Full Post