The building in this picture was the setting for most of the horror stories in my seven-year-old mind. It was also the view from my room in my grandparents' house. I would listen in awe as my friend talked about the ghosts that she had seen lurking there in the dark of the night. At night, I would draw the curtains together so I wouldn't have to stare at that abandoned dwelling. I didn't know much about it back then. My dada (paternal grandfather) told me it was called Bristol Hotel and that it was constructed pre-partition. My imagination added another detail; I assumed ...
Read Full Post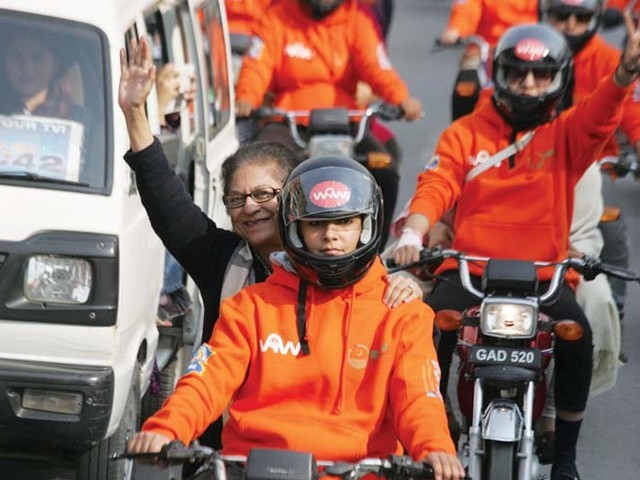 Owing to the fast-paced nature of the world and domestic economic strains, women are no longer confined to the domestic sphere but are seen venturing out into the public. While some say women are taking back the wheel, it can be argued that it is not reclamation that is taking place but for once, it's an assertion of the female right to belong in the streets. The 'Women on Wheels' (WoW) rally is a perfect example of this. On January 10, 2016, 150 women took a huge step. They swerved onto the streets of Lahore on motorcycles after training with ...
Read Full Post
December 16, 2014, is a day that will remain forever etched in the memory of every Pakistani who lived through it. The loss of 147 innocent lives to extremism shook not just the nation but the world with its inhumanity. Pakistan military's media wing, Inter Services Public Relations (ISPR), has aimed to play its part through two hauntingly beautiful and heart-warming musical tributes that have the power to reduce the listener to tears. The first video was released by ISPR around a month after the horrific attacks and was broadcasted on various television channels. It depicts various students wearing the Army Public School (APS) uniform. It is a ...
Read Full Post