As many as 98 players have been picked by five franchises for the inaugural Pakistan Super League (PSL). The tournament promises to be an exciting event. Out of the three formats of cricket, in T20 cricket, it is not likely that every player gets an opportunity to bat and ball in one game. The format is fast and one good performance can change the whole game more often, as compared to Test or ODI cricket. Fielding and fast-paced nature of the format means that fitness is essential. Having said that, this PSL is going to be without Younus Khan, the former World T20 ...
Read Full Post
The ban of Mohammad Amir, Mohammad Asif and Salman Butt has not ended yet. In the eyes of the ICC, the trio can play international cricket, after considering their offences serious enough to ban them for five years. Eventually, it comes down to Pakistan Cricket Board (PCB) to select them in domestic or international cricket, or both. But who takes the final decision? The chairman, the selection committee or the captains of all formats? Or the player who coached them in the 2010 England tour? Or the prime minister himself, who is also the patron-in-chief? Or the head of PCB executive committee? The decision has found ...
Read Full Post
The Pakistan cricket team, under the supreme leadership of Azhar Ali, has wrapped up the series against Sri Lanka by outplaying the hosts with a superbly dominant performance, winning three out of four matches in the five-match ODI series. Photo: Reuters This was Pakistan's first bi-lateral ODI series win in Sri Lanka since 2006. It has also boosted Pakistan's chances of making it to the Champions Trophy as Pakistan is currently ranked eighth in the ODI rankings, slightly ahead of West Indies. The national team has given a great overall performance. Pakistan's batsmen have batted positively with strike rates ranging from Azhar's 82 to Shoaib Malik's 125. Azhar's technique ...
Read Full Post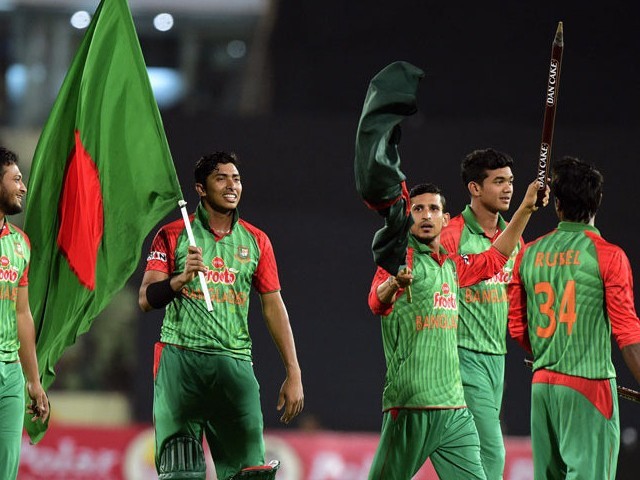 With back-to-back victories on their home ground against Zimbabwe, Pakistan, and India, Bangladeshi cricket fans have witnessed some of the best days watching their team play. The fans would say that beating Zimbabwe was predictable, but victories against two big teams, Pakistan and India, are what matters most. Asia will not always solely be about India, Pakistan, and Sri Lanka. A Champions Trophy spot is confirmed for Bangladesh and now the battle is between one of the big teams to fight it out against West Indies for the last spot. Only a year and half ago, Bangladesh had failed to ...
Read Full Post
I recently came across a blog on The Express Tribune titled From Imran Khan to Azhar Ali – Pakistan's 'leaders' over the years and I did not agree with the author's criticism of Inzamamul Haq and Misbahul Haq. This is simply because they were not only good captains but also played some vital innings in their captaincy for Pakistan cricket. First of all, Imran batted at number three in the 1992 semi-final, hence playing at the same number in the final was not the first occasion of its kind. His bowling was not of quality at that point and thus he knew ...
Read Full Post