This year has probably been the first year in decades where film soundtracks have had a significant cultural and commercial impact on the music scene. As film productions increase, the music industry is enjoying a new auxiliary role that it has not been able to enjoy for a long time. Over the past year, we have seen space both for film-specific producers, as well as pop bands crossing over. This year we saw Noori and Shiraz Uppal deliver a very popular soundtrack for Karachi se Lahore, and Strings did some of their finest work in a long time for Moor's OST – ...
Read Full Post
A few days ago, I read a blog by a passionate Misbahul Haq fan, thanking the Pakistan captain for all that he has achieved, and asking his forgiveness on behalf of the fans who have harangued and disrespected him for so long. Photo: AFP Like almost all other reflections on Misbah, this one described him by describing Shahid Afridi first, and explaining that Misbah was all that Lala is not. When I asked some Misbah fans why he is not contextualised in Pakistani society the way Afridi is, someone answered that it is because honest and hardworking people never get anywhere in Pakistan. [caption id="" ...
Read Full Post
An idea struck me while watching this week's episodes of Masterchef Pakistan. The arrival of the Masterchef franchise to a country doesn't necessarily reflect the inherent love for food in that society, but rather it is an example of a country's television-cooking industrial complex reaching a certain level of sophistication. Masterchef requires celebrity chefs and a television audience used to cooking shows. While the country's media is still popularly associated with talk shows and famous anchors, cooking shows have quietly established themselves as mainstays of Pakistani TV, offering competition to both news and general entertainment. When Chef Shae walked in as ...
Read Full Post
I spent much of the last week of 2013 writing a review about the fantastic year Pakistani music had just had. On the first day of 2014, I woke up to the video of Arbaz Khan and Mathira's song, Jhoota. My life will never be the same again. To start off with, I was a bit disappointed that Arbaz was not Salman Khan's brother/Malaika Arora's husband, a fact which said more about how irrelevant my references were and less about the situation. In fact, when Malaika Arora was actually worth knowing about (MTV Loveline, circa 2000) this particular Arbaz was still ...
Read Full Post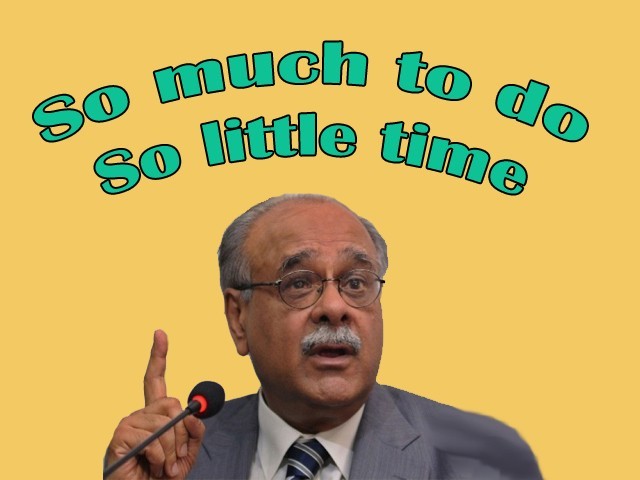 In 1976, Bollywood released a film called Hurfun Maula (jack of all). Very few people realised that this was actually a premonition for what Najam Sethi's future career would be. The Lahori Man For All Occasions (LMFAO) is now leading the Pakistan Cricket Board (PCB), after stints as caretaker CM Punjab, anchor on Geo, and editor of Friday Times. So here are some suggestions on what he should do in his latest job. Change the Name: As you might have realised, Pakistan is currently as popular on the global cricket scene as a leper in a surgery ward. However, you can ...
Read Full Post
There are many reasons to like Twitter. Most of them have to do with the fact that your extended gharana is not on it, no one asks you to play Zyla Slingo or Farmville, most people you admired for their intellect are revealed as being quite boring, and then of course, there are Twitter trends. In fact, trending topics are a concept that is unique to Twitter. Witnessing one develop can be an exhilarating experience, as you watch it emerge organically and suddenly begin to snowball to gargantuan proportions. Factor in the usual outrage and the trolls, and it's like ...
Read Full Post