This recipe is not only easy to make but serves as the perfect main course for a nice sit down evening with your friends and family. Ingredients: 3 chicken breasts One bundle of spinach leaves 1tsp garlic paste (for the stuffing) Soy sauce for marinating Mozzarella cheese (thinly sliced) For the sauce: A handful of mushrooms 1 packet cream Corn-flour Freshly ground pepper 1 small onion chopped Method: Flatten the chicken breasts with a meat mallet. Rub with soy sauce, garlic paste, salt and black pepper. Photo: Nida Waqar Blanch* the spinach leaves and drain. Add salt, red chilli flakes and garlic paste. *Blanching is a method in which you add vegetables to ...
Read Full Post
The much awaited feasting time of the year has finally arrived! Congratulations to all of you brave people out there for being patient through Ramazan. Now, it's time to let loose and give in to your cravings. While your Eid trolley may have the essential Eid items (sandwhiches, kababs, cake), there are always recipes you can try out that will impress your friends and family. Read on to see these dessert recipes that are sure to win you tonnes of praise from your loved ones. Kulfa inspired, crunchy delight Ingredients: 1. 2 cups milk. 2. One cardamom. 3. 2-3 strands of saffron. 4. Condensed milk 2tbsp. 5. Corn ...
Read Full Post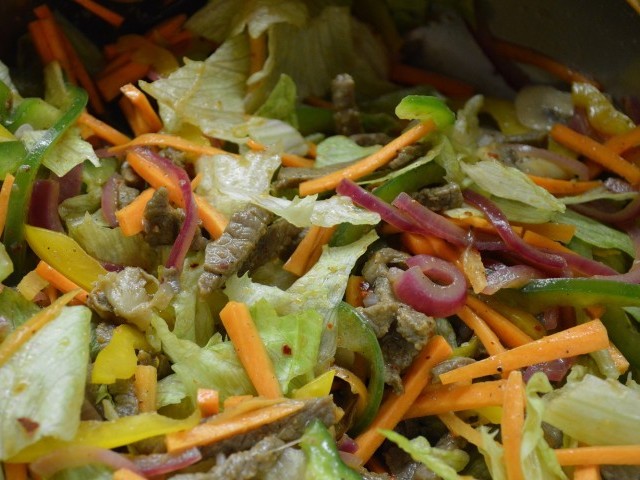 I'm sharing with you all the recipe of a delicious and aromatic salad – a refreshing change from the mayo loaded salads or the typical mixed vegetable salads we have on a regular basis. It's a full meal in itself if served with crackers or garlic bread. Here is what you will need. For the salad: 250g boneless beef (try to get undercut as its the most tender part) 1 medium sized onion 1 small sized lettuce head (I used iceberg lettuce) 1 carrot 1 bell pepper 1 cucumber 5-6 button mushrooms 1/4th cup vinegar For the dressing: 1 tsp olive oil 1tsp soy sauce 4 tbsp lemon juice or 2-3 tbsp vinegar 1 ...
Read Full Post
I love Chinese food because it is so quick and easy to cook. With managing a very demanding one-year-old and keeping the house clean, I sometimes have no time left to cook. That's when a quick stir-fry recipe comes to the rescue! This recipe is one of my favourites; juicy chicken chunks combined with crunchy roasted peanuts and fresh vegetables. Truly healthy and delicious! Ingredients: – One chicken breast, diced – 1 small bell pepper, diced – 1/2 yellow bell pepper (optional, just for colour) – 1 small sized zucchini – 1 carrot – Green chillies sliced diagonally (as required) – Red chilli flakes, for taste – 1/2 cup ...
Read Full Post