I still remember the first time I saw a tremor in my dad's hand; we thought perhaps it was high blood pressure and immediately took him to the doctor. However, the tremors didn't stop the next day, or the day after that. After a few tests the doctor recommended that we consult a neurosurgeon. Upon visiting one, we were informed that my father had Parkinson's disease (PD) and his tremors would only grow worse with time – there was no cure. As the doctors broke this news, I tried my best to be strong for my father. Still, when I came home and watched ...
Read Full Post
Winter is nearly over in Karachi and I can already see billboards of Iman Ali modeling for lawn. This is just the beginning of the lawn madness in Karachi. Every year, designers hold exhibitions selling overpriced lawn where mobs of women claw and push each other to get the best pieces. Even if the prints are a big disappointment, women will still wait in long lines at exhibition venues. Aunties gone wild I made the mistake of attending one Gul Ahmed lawn exhibition. While I was standing at the counter, a middle-aged aunty came and pushed me from behind because I had asked the ...
Read Full Post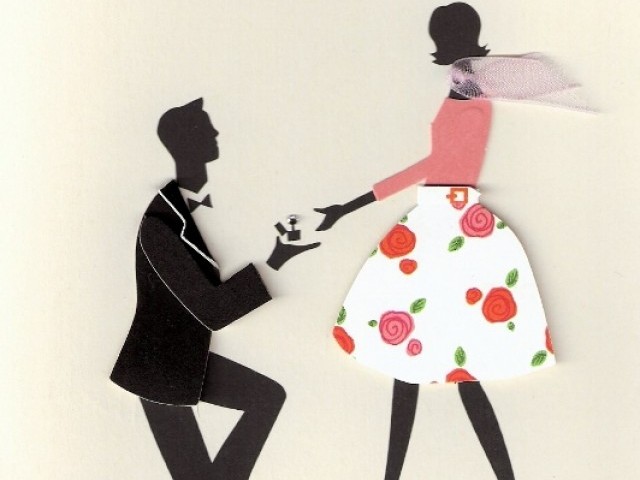 A few weeks ago, I went to a wedding where upon introduction, an aunty made the following comment: "Oh, beta how wonderful to see you've done your MBA.  But why aren't you married yet?" The "why aren't u married yet" was repeated in a derogatory tone as I was dragged to meet another aunty. This aunty seemed to be looking for a "suitable" wife for her son who  was living in America. Her plan was to short list 5-8 girls for her son, who would be visiting Pakistan for just a week, so she could ask him to choose one ...
Read Full Post
It was 6 pm and I had just entered my home after a long, hectic day at the office, when the bell rang and a very efficient looking KESC team for the Defence area came in, claiming that according to Section 20 of the Electric Act 1910, they were required to carry out an inspection of the electricity metre. As per the rules, our meter is installed outside the house, where I took the team so that they could carry out the inspection. As one of them inspected the electricity metre thoroughly, he found no fault in its operation. Then ...
Read Full Post
As I sat in my car stuck in a traffic jam on Zamzama, I noticed two women standing on the pavement. One appeared to be in her late twenties and the other barely 16 or 17-years-old.  Their high heels, tight tank tops and heavy makeup made them stand out. Both seemed to be waiting for a ride. They kept leaning towards the road giggling at each other. A Civic slowed down as it approached them. As a window rolled down a short conversation took place and the two women got in the car. I realized I had just witnessed two prostitutes getting ...
Read Full Post
When I was a child I once came home from school and asked my mom if I was Punjabi or Urdu speaking, my mom replied: We are Pakistanis and that is the only thing that matters. I will forever thank her for teaching me that, because it made me realise Pakistan is my home and no matter what people say it will always be my home. I am to be counted among the small percentage of the population that harbours a simultaneous deep love for my country and shares a heart-wrenching disappointment with the people in my country. On my visit to ...
Read Full Post
It was broad day light when four men broke into an elderly woman's house in Defence. Two held the only occupants of the house, a lady in her 80's and her maid, at gunpoint while the others searched the house for cash and jewelry. When the robbers did not discover anything worth stealing they began beating the old woman black and blue, accusing her of hiding valuables. The woman, a patient of arthritis and weak eyesight, suffered bruises on her face and a possible fractured jaw. She was rushed to the hospital in a state of shock and the trauma ...
Read Full Post
Clare Boothe Luce once said "Because I am a woman, I must make unusual efforts to succeed.  If I fail, no one will say, 'She doesn't have what it takes.'  They will say, 'Women don't have what it takes.'" I had just completed my MBA and was in the process of applying for jobs in Karachi when I received an interview call from an organisation through my college graduate directory. It was a small organisation but I decided to go for the interview just for the learning experience if nothing else. I cannot disclose the name of the organisation but my interview ...
Read Full Post
The day begins at 8:30am as she drives to work. The road seems choked. As usual another traffic jam on II Chundrigar road. All of a sudden she hears a thud. She realizes someone just banged into her brand new Civic given to her by her bank. She votes if she should get off to inspect but realizes she's already late for a client meeting. Like most corporate bankers her life revolves around 90-hour work weeks crafting deals that she will present to prospective clients. Her first meeting starts with a possible client where she has to present the pros ...
Read Full Post
The lives of millions of women in Pakistan are circumscribed by traditions, which enforce extreme seclusion and submission to men, many of whom impose their control over women with violence. For most part, women bear with stoicism, traditional male control over every aspect of their bodies, speech and behaviour. According to the Human Rights Commission of Pakistan, it is estimated that a woman is raped every two hours, a gang rape occurs every eight hours, and about 1,000 women die annually in honor killings. I am not a feminist and I don't believe men and women are created equal. I believe ...
Read Full Post