I recently met Prime Minister Imran Khan at his house in Bani Gala with a group of colleagues. So much has changed. The prime minister is fond of such meetings with groups of journalists at his private residence. But it's different now. Elaborate official arrangements, professional security detail, a great team of time managers from the Prime Minister House, and a stern bodyguard standing behind him at all times, including when he was sitting in the close-door huddle with us. But he has not changed. Nothing noticeable. No aura of officialdom and power (except maybe for the poker-faced guy standing alert behind him). Imran ...
Read Full Post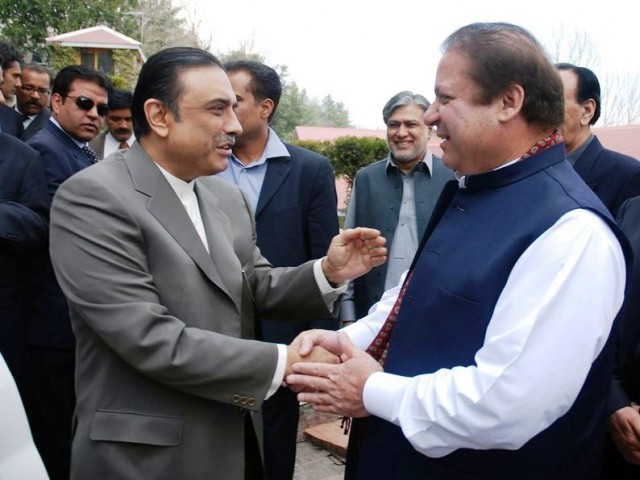 Former Prime Minister Nawaz Sharif has issued a statement asking the nation's politicians, judiciary and the military to create a 25-year plan, which he called the Charter of Pakistan. The plan, he said, should be produced "with consensus" to pull Pakistan "out of its problems." Our politicians are just discovering what statesmen in other nations take for granted. Better late than never. There is no reason to doubt Mr. Sharif's sincerity in floating this idea. But he should also ponder with an open mind what many skeptical Pakistanis will say about it. Seen from another context, this noble idea can easily turn ...
Read Full Post
This Nobel for Peace has all the ingredients of war. A minority, handful of Western countries, enjoying media supremacy, ganged up on a rising non-Western power, while the world's majority nations—Russia, Brazil, Latin America, Turkey, Pakistan, the Middle East, and even India, which fancies itself as counterweight to China, all ignored the politicised award. Nobody had heard before about Liu Xiaobo, the recipient of this year's Nobel Prize for Peace. In 1989, he was one of dozens others jailed for organising so-called 'pro-democracy' demonstrations. At the time, China's burgeoning population needed jobs, healthcare, housing and schooling. Had the demos succeeded, China ...
Read Full Post
Hardly. Better still, there wasn't a coup to start with. Monday's well-timed meeting between the so-called 'troika' – the President, Prime Minister, and the Army chief – is being widely interpreted as having averted a possible collapse of the elected Zardari-Gilani government. There is no word from the military's media people on the meeting but the president's media office took the liberty of releasing a statement renewing the commitment of Gen. Kayani, and that of the President and Prime Minister, to defending democracy. If there's anyone who created a frenzy about an extra-constitutional [read: military-engineered] change, it is the elected government ...
Read Full Post
This is a story of a cruel, ruthless and heartless Pakistani system that has failed. And no elections can save it, without a major change. A mother in northern Pakistan jumped into a river where five of her children drowned after the management of a privately-run school sent them off in a crammed bus driven by the school's gatekeeper, or chowkidar, who then drove it off a cliff. Every once in a while comes a news story that makes your heart stop. And this is one of them. Pakistan's politicians can spend $11 million on a statue for a dead politician ...
Read Full Post
A suicide attacker targeted the al-Quds rally this Friday in Quetta, the capital of Pakistan's Balochistan province. Fifty Pakistanis are dead and with over 100 injured the figure could rise further. It was highly irresponsible of the organizers of the rally – and the government officials who gave it the green signal – to endanger the lives of Pakistani citizens only two days after attacks that targeted public events. In pure security terms, this is a serious lack of judgment on the part of the organizers. The Pakistani government must proceed with criminal charges against the organizers who, in their callousness, ...
Read Full Post
While the world's rich dole out money to help Pakistan's flood victims, our own rich political elite have refuse to budge. By now we should have seen members of the ruling elite buying tents, building shelters and providing gallons of clean drinking water to the homeless millions. But in every flooded district of the country, all you will find are Pakistani civilians and military volunteers – not politicians. This is a lesson for the Pakistani nation. Compare the generous response to a nation wide campaign in Saudi Arabia to raise funds for the victims of floods to the reaction of the Pakistani elite: What ...
Read Full Post
Since late 2006, the United States government, military, intelligence and media have been orchestrating regular attacks against Pakistan, creating a false alarm about its nuclear capability and portraying its premier spy agency, the ISI, as a threat to world peace. Weak and apologetic reactions by Pakistan's political and military officials have encouraged this American double game. But then came the smoking gun: more than 90,000 leaked US intelligence documents, which prove how the Washington establishment has been running a vilification campaign against Pakistan both under Bush and Obama administrations, without any evidence except malicious intent. Here is a chance for Pakistan to ...
Read Full Post
This is not the first time that Indian extremists have sabotaged crucial peace talks with Pakistan. On February 19 2007, one day before Pakistan Foreign Minister Khurshid Kasuri landed in New Delhi for peace talks, a bomb exploded aboard the Samjhota Express, or the friendship train launched as a peace gesture. Fifty nine Pakistani visitors heading to India were burned alive. A cynical Indian government blamed the ISI and Kashmiri freedom fighters for the incident but later it turned out that serving Indian military Intelligence officers and members of a Hindu terror group were involved. The Indian officers were arrested ...
Read Full Post