Rashid Latif and Moin Khan are easily the finest wicketkeepers Pakistan has ever produced. Which of the two was a better choice is debatable but both had the ability to represent the national team on any and every platform. Be it Shoaib Akhtar's deadly pace or the reverse swing of Waqar Younis and Wasim Akram or the doosras of Saqlain Mushtaq, wicket-keeping wasn't a problem for Pakistan as long as these two men played for the country. During their tenure, the captains even enjoyed the special leverage to use one wicketkeeper as a replacement for the other for a good ...
Read Full Post
As per the outcome of the May 11 general elections, the people of Pakistan, once again, placed their faith in the experienced leadership of the Pakistan Muslim League Nawaz (PML-N) to govern the country, which is suffering from an ailing economy, the worst-ever energy crisis and serious security threats: terrorism, ethnic violence and targeted killings. The 2013 elections were historic in many ways. A democratically elected government completed its five-year term for the first time and transferred power to another democratic government; the voter turnout was the highest ever which is a strong indication that people's awareness about their right to ...
Read Full Post
Progress comes at a price they say, but when it comes to Karachi, motorcyclists seem to be the ones paying this price most often, if not always. From entry into state-of-the-art shopping malls and luxury hotels to snap checking by the police, motorcyclists face discrimination in most situations. This is about the rights of two million motorcyclists — sales agents, delivery staff, factory workers and other corporate as well as public sector employees — who serve the city in one way or the other. If you are on a motorcycle, the security at a five-star hotel will not let you in, nor will they treat ...
Read Full Post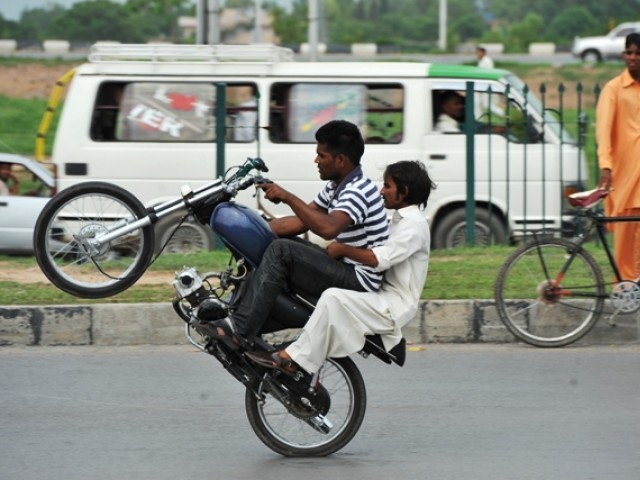 In a third world country like Pakistan, where successive governments have failed to provide a reliable transport system, motorcycles tend to be the lifeline for masses. Take the example of Karachi, which accommodates more than half a million motorcyclists every day. While the number of motorcycles has increased in recent years at a phenomenal pace, the government and traffic regulators have made no efforts to bring discipline in this realm. The Excise and Taxation Department of Sindh has finally started issuing official registration plates for motorcycles purchased as of July – an initiative one must appreciate as it could provide traffic ...
Read Full Post
People often ask me if it is too risky to be a reporter. "Not really", I tell them, "but if you try to be too adventurous, you can get killed." I didn't think of reporting this way until I covered the massacre of May 12, 2007 — a day I will never forget for many reasons: bodies lying in pools of blood, ambulances transporting the wounded and dead, powerful display of firearms by political activists, no policemen for the rescue and escaping bullets. Had I not been adventurous, I would have missed out on what I now consider a lifetime ...
Read Full Post