I am a closet drama viewer. There I said it. I am even part of a WhatsApp group that discusses and disses with equal panache anything on either side of the border and beyond. I don't exactly recollect when this love fest started, perhaps it was as a child in my hometown Jalandhar in Punjab where we would excitedly catch an erratic signal from across the border telecasting the black and white drama Sona Chandi or maybe the reception was so blurry that we couldn't really tell any colours! Then came 'Tanhaiyan' followed soon after by the iconic 'Dhoop Kinare', which we ...
Read Full Post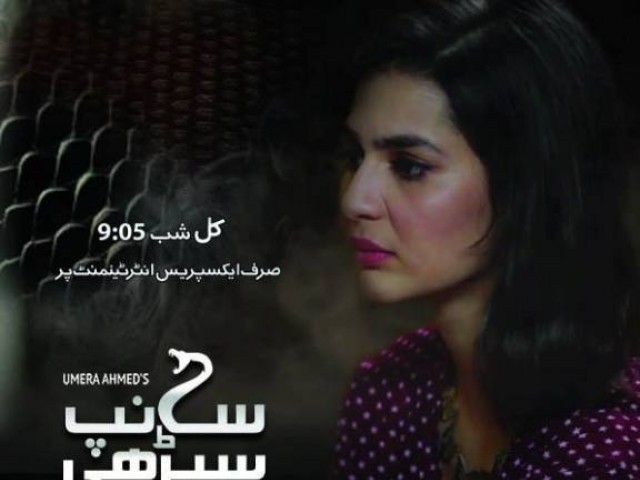 For an average serial, one of the most vital moments is when cupid strikes. However, it is hard to establish such a plot in certain dramas where power and politics form the backdrop. So seems to be the case with Saanp Seerhi. With loud, ruthless socio-political commentary in the background, the love story of Mohid and Sophia is a faint thump.  Politicians stepping into puddles for footage (no points for guessing the inspiration behind this), and enforcing their progeny upon their voters as future masters and their complicated relationship with the media indicates the focus of the drama quite clearly. ...
Read Full Post
To ask a Pakistani actor to go back to his country when there has allegedly been a terrorist attack on Indian soil by Pakistanis, is both stupid and understandable. The citizens ask for quick retaliation and, as always, people in the world of arts, culture and film are the softest targets. The Maharashtra Navnirman Sena (MNS), sensing the public pulse, cashed in on the anger and gave Pakistani actors and artists a 48-hour ultimatum to leave India. And mind you, a lot of Indians are irate with the presence of the Pakistani artists in India. That does not make them right or ...
Read Full Post
Mannu: "Amma, amma. Please mujhay jaaney dain. Main unkay baghair marr jaun gee. Main nahin reh paaun gee. Please mujhay jaaney dain."  (Mother, mother. Please let me go. I will die without him. I won't be able to live. Please, let me go) Dad: " Jaaney do issaay." (Let her go) Mom: "Yeh kya keh rahay hain aap?" (What are you saying?) Dad: "Jaaney do issaay!" (Let her go!) Mannu runs towards her father who signals her to stop. "'Jao. Khari kyun ho? Raasta khula hai. Tumhain ab koi nahin rokay gaa." (Go. Why are you standing? Your path is clear. Nobody will stop you.) Mannu: "Aisa ...
Read Full Post
Jutt and Bond was where most of us first saw Fawad Afzal Khan. He was a skinny, lanky, clean shaven guy with bangs. Soon after, we were surprised to see him as the lead singer of Entity Paradigm (EP), a Pakistani nu metal band, with his husky, soulful voice and that pained musician look. That was when we, the female population of Pakistan, said to one another, "Hey, this guy's not bad looking." But little did we know that he would soon be making waves and creating magic on TV and the big screen. By frequently featuring in commercials, a few songs and TV serials ...
Read Full Post
Last night, while Pakistani men were anxiously waiting for the premier's speech, to be aired at 8pm, the women had a completely different, and might I add 'dramatic', agenda to grab hold of the TV remote. Coincidentally, the prime minister's speech took place at the same time when the series finale of Pyare Afzal – which could safely be dubbed as one of the most widely watched television serials of all time – was to be aired. On one hand, this diffused the political tension for the fans; on the other, it became a reason for family discords over the TV remote and ...
Read Full Post
Indian soap operas and dramas have been airing on Pakistani television for a long time now. Pakistani women especially, have been largely influenced by these drama serials and this can be seen in the way Hindi words have seeped into our language and Indian clothing has become part of our fashion. Women not only want to buy Tulsi's sari now, but to also, at times, address an unfortunate happening or a mishap as abshugan (Hindi for bad luck). The effects on our culture can be easily spotted. However, a few days back, I came across news that was thoroughly refreshing to hear; Pakistani dramas are ...
Read Full Post
In truth, 2013 was not quite the bumper year for Pakistani dramas that 2012 was. It was not that there were not any good dramas – there were – but the level of consistent quality that a serial needs to maintain in order to be memorable, seemed lacking. However, a curious thing happened. With no clear-cut blockbuster serials, we noticed quite a few smaller serials blooming in the wide open spaces left behind. Although sometimes low on budget, most of these dramas were high on quality, proving that funding needs not be a limiting factor. Serials such as Talkhiyan and Aunn Zara managed to punch above their weight by ...
Read Full Post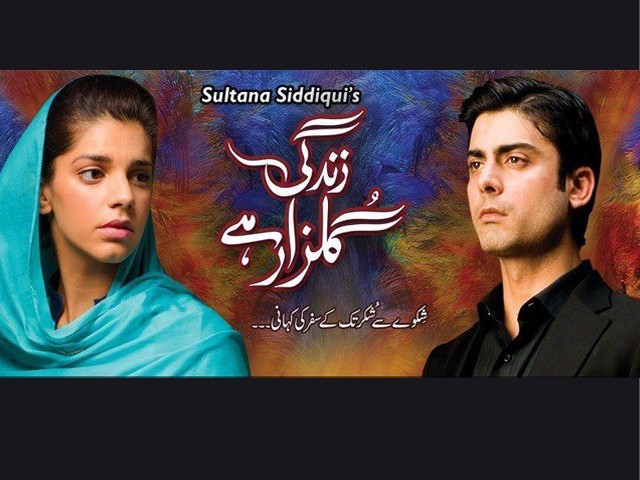 After receiving countless amounts of messages from my friends to watch the new drama serial, Zindagi Gulzar Hai, I finally spared some time to catch up with the few episodes that have aired so far. Given the hype surrounding the show, I wasn't surprised when from the outset, a similar plot was introduced- a plotline that serves the basis for many Pakistani TV series. It reminded me of the serial, Humsafar. No, not because the same actor is acting in this drama, though I have to admit it certainly added to the likeness of the two drama serials. It is primarily because, both ...
Read Full Post
Recently there has been hot debate going on over a T-shirt Ayesha Omar wore in one of the scenes of the ongoing drama on Hum TV, called Zindagi Gulzar Hai. There has been outrage on social networking websites (especially Facebook) and many people have been blogging about the huge offence to Islam that the T-shirt apparently caused. The reason behind all the fury is not because she wore a T-shirt but because the shirt says 'Little Miss Jihad'. It also sports a cartoon of a veiled woman with a bomb tied to the back of her head. The screen time of the ...
Read Full Post