Okay, I give up! A lot of people do not agree with my hyper-critical approach when it comes to reviewing movies. I've been called an eternal cynic, a tag which is probably the most publishable amongst various other labels I have had the pleasure of hearing. Bearing that in mind, I have decided to radically alter my ways with this piece and tried to analyse a cinematic work purely based on how the majority would tend to receive it. The dubious honour for this novel experiment goes out to the first full length trailer of the upcoming Pakistani romantic comedy, Punjab Nahi Jaungi. What makes Punjab Nahi ...
Read Full Post
There is a lot of spectacle, colour, emotion, singing and dancing in the recently released teaser of Punjab Nahi Jaungi. Two beautiful ladies, however, stand out amidst all the razzle and dazzle of the decidedly glitzy 75-second video. One is the glamorous Saba Waseem Abbas who walks ever so seductively, wearing pink, orange and purple, to welcome a triumphant Humayun Saeed to her home. The second is the perennially beautiful Naveed Shahzad who registers her regal presence in the teaser with remarkable grace and style. Photo: Screenshot There is, of course, no shortage of eye candy in Punjab Nahi Jaungi. The first collaboration of ARY Films and Six Sigma ...
Read Full Post
I still remember when I was first introduced to The Mindy Project by a friend while sitting in her apartment in DC back in 2014. We started binge-watching it for a few nights after dinner during my brief stay with her. When I returned to my internship in Vancouver, I heard one of my colleagues (an Indian-Canadian woman) raving about it. Mindy Kaling is undoubtedly a talented lady and the show has been quite popular – on a separate note, there was something about it that made all the brown girls go crazy. They finally got to see a brown woman in ...
Read Full Post
Let me admit that I did not know who Nabeel Qureshi was before entering the theatre to watch Actor In Law. I did not watch Na Maloom Afraad (2014), primarily because of its eerily similar appearance to Hera Pheri (2000), until I watched it a couple of weeks back. Nevertheless, the trailer of Actor In Law was intriguing despite, yet again, giving a similar feel to that of Govinda's Kyo Kii… Main Jhuth Nahin Bolta (2001), which was similar to Liar Liar (1997) of Jim Carey. I was intrigued because it's not very often that you get a chance to see Om Puri in a Pakistani film. If Actor in Law was made 30 years ago, Amitabh ...
Read Full Post
She was sitting outside when the sound first reached her ears. Her gnarly hands gripped the chair firmly. Staggering, she got up and walked towards the sound. The melody grew louder, different voices rising and falling. Melancholy gripped her. As a few minutes passed, the song reached its peak moments. And then the sound died abruptly. Puzzled, she hurried into the room. Her husband stood in the middle of the room, gripping the remote firmly. He glared at the television set with contempt. But Naghmana Bibi was not discouraged by his anger. She saw what others could not see. They saw his proud head, ...
Read Full Post
Pakistan's movie industry met its downfall during the 1990s and 2000s. This was the time when big screen actors migrated to television, because there was no variety and Punjabi movies ruled the cinema. During the 1960s to 1980s, Waheed Murad, Nadeem Baig, Shabnam, Shaan Shahid, Resham and Reema Khan were the regular faces to be seen on screen. However, during the revival of Pakistani cinema during 2012-13, television actors adorned the silver screen with their powerful presence. During 2015, a number of Pakistani movies were released which heralded the rise of this industry. This blog will highlight some of the ...
Read Full Post
This year witnessed Pakistani cinema step out of a murky and Bolly obsessed past into a well-choreographed, seductive, witty, and innuendo-filled cinematic future. For a country, now in its 69th year of independence, that once teemed with 1500 movie houses – it's about time. The 2015 blockbuster, Jawani Phir Nahi Ani (JPNA), was the perfect culmination to a year of decent Lollywood films. Below are the venerable author's six astute observations on the three hour Nadeem Baig comedy on the burdened life of three bachelors under the tyranny of their wives. 1. "What happens in Bangkok stays in Bangkok" Photo: Jawani Phir Nahi Ani ...
Read Full Post
Jawani Phir Nahi Ani (JPNA), without a doubt, has been one of the most anticipated movies of the year. The reasons include its well-known star studded cast which includes Hamza Ali Abbasi, known for his controversial statements regarding the movie, Mehwish Hayat, who's seen in a completely different light since the release of her item song, and Vasay Chaudhry, who is known for his inspirational tales. The movie also highlights heavy brand endorsements. The movie revolves around three childhood friends, Saif (Hamza Ali Abbasi), Sheikh (Vasay Chaudhry) and Pervez (Ahmed Ali Butt), who are married and settled in their lives but are afraid ...
Read Full Post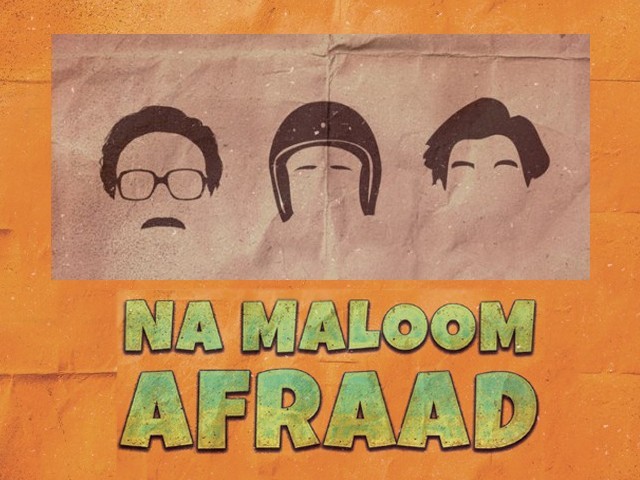 The term "Na maloon afraad", in recent times, has become almost ubiquitous and synonymous with those unknown/anonymous miscreants that are up to no good at all vis-à-vis to any law and order situation in our major cities. However, this time around, it has a comedic spin surrounding it; enter Na Maloom Afraad, the Pakistani feature movie! Suffice to say, the consensus will be unanimously positive and endearing when one will head out to the movie theatres to see this particular motion picture; they will be thoroughly entertained and get their money's worth. It is a pure masala film through and ...
Read Full Post