A few days after his death, I came across the news in an old newspaper: "Renowned poet and writer Atta Shad passed away last night".  It was not news for me. Anyone could die, so did Shad. I didn't even bother to read the news piece in detail and instead put the newspaper aside. At that time, I was a teenager and had recently developed a taste for poetry. And if you expect Shad to strike the chord of a teenager, you would be terribly wrong. And if somehow a teenager did manage to read his poetry, his words would disappoint you, as ...
Read Full Post
Controversial scholar, entertainer and televangelist, Aamir Liaquat, offers a liberal feminist virtually no reason to smile and nod politely. On March 16, 2016, Mr Liaquat may have finally broken that tradition. On an episode of NewsEye, Mehr Abbasi raised the subject of the Punjab Protection of Women Against Violence Act and the controversy surrounding it. Senator Hafiz Abdullah, of Jamiat Ulema-e-Islam-Fazl (JUI-F), rebuked the act as any viewer acquainted with Pakistani political dynamics may have anticipated. It was the identity of the act's defender, which came as a pleasant surprise. Mr Aamir Liaquat was visibly bitter, missing one burning cigarette clamped casually between ...
Read Full Post
"Ugg raha hai dar-o-deewar se sabzah Ghalib! Hum bayabaan mein hein aur ghar mein bahar aayee hai" (Greenery is growing out of the doors and walls, Ghalib I am in wilderness and spring has arrived at my house.) In his remarkable yet slightly partial treatise to the game in Pakistan, The Wounded Tiger Peter Oborne identifies two events as being game-changing in the history of the sport in the land of the pure. First was the 'Test match' victory over the touring MCC side in Karachi in 1951 which established an Abdul Hafeez Kardar-led Pakistan side as a force in international cricket and ...
Read Full Post
The non-issuance of visas to India continues to irk thousands of Pakistani Americans as the former remains hell bent to grind an axe with Pakistanis, regardless of borders or their new nationalities. At the moment, there are an estimated 500,000 Pakistani Americans in the US and the rate of their continually burgeoning numbers makes them the second fastest growing group of Asian immigrants in the US. According to the Pew Research Centre, the entire population of Asian Americans, which includes Pakistanis, is among those in the highest income bracket as well as the best educated in the country. However, despite all the good check marks ...
Read Full Post
It's that time of the year again. Women are anxious and men are distraught; the day when every guy and girl sitting together are stared at suspiciously; the day when people are edgier than usual; the day you are confused about how to celebrate this day because it also happen to be the day students fear being seen in public with someone from the opposite gender because of the 'consequences'. While the world celebrates Valentine's Day today, the students at the University of Karachi are celebrating something different. These students have given various names to this day, including Hijab Day, Haya Day and ...
Read Full Post
We curse him while trying to cram verses from Deewan-e-Ghalib into our heads for our Urdu literature exams. We study him because we have been told to but if – by some miraculous, unfortunate realignment of the stars – Mirza Asadullah Baig Khan, or Ghalib, was alive in 2014 rather than the 19th century, I am sure he would have been found hiding under the deck of a boat trying to escape to Australia. The first charge levied against him would have been of being an Indian agent; he was born in Agra after all. Anchors would appear on television with proof of ...
Read Full Post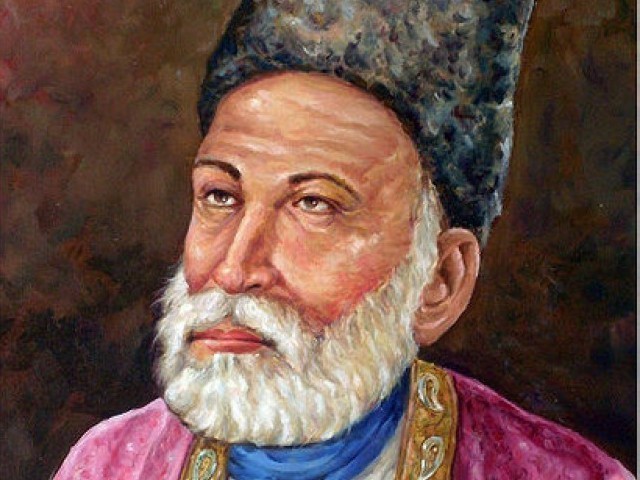 Mirza Asadullah Khan chose possibly the most apt pen name for himself – Ghalib – meaning dominant. He rules the world of poetry of the Indian subcontinent to date. Greats like Faiz have taken pride in looking up to him. Centuries later, he continues to be the muse for millions. "Koi ummeed barr naheen aati   Koi soorat nazar naheen aati…" (There is no hope to be found, There is no way out to be sought) A Long Play (LP), or a 33 1⁄3 rpm vinyl record, that my father had bought from a trip to London was titled "Lata sings Ghalib". Often, Abba would play ...
Read Full Post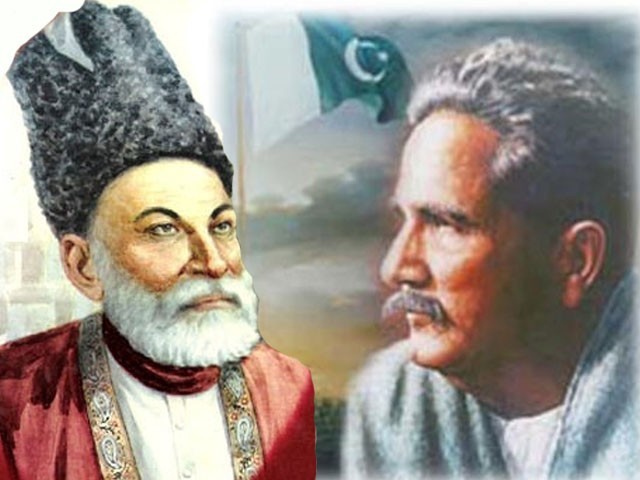 Once upon a time, a Pakistani who also happened to be an Urdu literature lover, was travelling from one city to another somewhere in the northern areas of Pakistan. Throughout his journey, only two books were his companion – Deewan-e-Ghalib and Kalaam-e- Iqbal. During a long bus journey, his tired and weary yet over-imaginative mind was in a half-sleeping and half-dreaming state. In this trance, he found Ghalib and Iqbal sitting in the seats right next to him talking to each other, completely oblivious of his presence. This is the conversation that ensued between these two great Urdu poets: Iqbal "Aah! Look at those beautiful mountains and ...
Read Full Post
The chance to watch the most awaited play in the theatrical history of Karachi came to me by the sheer luck of getting some free passes, as Rs1500 for a ticket seemed too steep a price. I was greeted by an excited crowd that had gathered even before the gates opened. There was palpable excitement in the air. Everyone was hoping for a worthy show that could make them relive their old memories. Being a die-hard fan of Aangan Terrha and having almost rote-learned the entire show – thanks to the presence of old DVDs in the house – I was sceptical about whether my expectations ...
Read Full Post
I called a friend in Karachi the other day to ask how he was doing. He responded with a verse from Ghalib which talks of a sea of blood in front and fears of worse to come. Asked about the government's efforts to prevent further aggravation, he read another verse by Ghalib complaining of the confusion caused by new rules being announced every day. You may not find the couplet in Ghalib's Dewan. It is one of those verses buried in his letters describing what Delhi was going through after the 1857 Mutiny was put down. Soon after this friend ...
Read Full Post